Cylinders are available with bore sizes from 3/4 to 8 in.
Press Release Summary: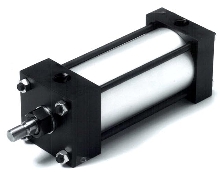 Q6 Hydro-Line Cylinders come with pressure-energized nitrile rod seals and nonmetallic piston wear rings. Pre-lubricated from factory, cylinders are suitable for non-lubricated air service up to 250 psi. Q6 NFPA-interchangeable cylinders feature precision-machined aluminum end caps and self-aligning, externally removable rod cartridge assemblies. Hydraulic HQ6 tolerates pressures to 400 psi, and pneumatic NQ6 is designed for corrosive environments.
---
Original Press Release:
New Hydro-Line Q6 Cylinder Combines Light-Weight Durability and Design Flexibility

Eaton's Fluid Power Group is introducing a new family of Hydro-Line cylinders. The Q6, HQ6, and NQ6 Series products are characterized by their durability and application flexibility.

The Q6 Series is designed to withstand the rigorous environments and cycle demands of industrial applications. It comes standard with pressure-energized nitrile rod seals that compensate for wear. It also features a nonmetallic piston wear ring that virtually eliminates metal-to-metal contact between the piston and cylinder bore. The cylinders also come pre-lubricated from the factory-ideal for non-lubricated air service up to 250 PSI. These features, in addition to optional cushions that incorporate an advanced floating-cushion seal, combine to extend the performance life.

The Q6 is also designed to accommodate a wide variety of applications. This NFPA-interchangeable cylinder features precision-machined aluminum end caps that can be readily configured to a customer's specific needs. It also includes a self-aligning, externally- removable rod cartridge assembly that facilitates maintenance. To further enhance design flexibility, the Q6 is available with a number of options including: a magnetic piston to trigger proximity switches, adjustable cushions, a bumper piston seal for reduced noise, SAE or NPTF ports, stop tubes, 24 mounting styles and a wide range of mounting accessories.

The optional HQ6 Series and NQ6 Series products are dimensionally interchangeable with the Q6. The hydraulic HQ6 tolerates pressures up to 400 PSI. The pneumatic NQ6 is designed for more corrosive environments. Special corrosive-resistant features of the NQ6 include stainless steel piston rod, tie rods, tie rod nuts and cylinder tubes, coupled with electroless nickel-plated heads and caps.

All three of the series, the Q6, HQ6, and NQ6, offer optional sealing systems to accommodate operating temperatures from -20°F to 400° F. They are all available in bore sizes from 19.05mm to 203.2mm [3/4 to 8 inch], with multiple rod sizes.
More from Material Handling & Storage