Electrical Discharge Machining (EDM)
CUT E 350 Wire EDM and FORM 20 Die-Sinking EDM feature Intelligent Power Generator.
Press Release Summary: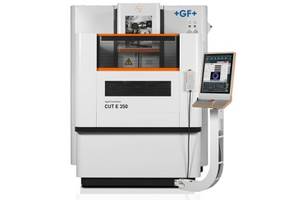 CUT E 350 Series wire EDM and FORM 20 die-sinking EDM uses Fanuc-based control platform for increasing flexibility. Featuring touch screen human-machine interface, CUT E 350 wire EDM follows corner strategy module for automatic parameter adjustment. Delivering up to Ra 0.1 micron surface finishing and radii up to 0.0007 in., FORM 20 die-sinking EDM reduces electrode damage.
---
Original Press Release:
GF Machining Solutions to Unveil New Machining Solution at EASTEC 2017
GF Machining Solutions will unveil a new high performance milling machine in booth 1236 at EASTEC 2017 in West Springfield, Mass., May 16-18. Visitors to the company's booth will witness the debut of this machine, which features a Fanuc-based control platform to help manufacturers increase flexibility and accelerate time to market. The booth will also feature the CUT E 350 wire EDM and the FORM 20 die-sinking EDM.
The CUT E 350 is the first machine in GF Machining Solutions' new CUT E Series of high performance and high productivity wire EDMs. Machines in this series feature a new, large-touchscreen human-machine interface (HMI) that is intuitive in operation and includes onboard Intelligent Collision Protection, built-in machining strategies and flexible job management.
Information about geometries, machining processes and command programs is processed in a single file which allows jobs to be transferred among different machines in the CUT E Series, with the machines automatically managing all needed modifications. Additionally, more than 10 automated measurement cycles are available to assist with workpiece preparation, and the onboard AC CAM Easy allows an operator to prepare an ISO file and post-process it into a job during machining.
The CUT E Series features the modern Intelligent Power Generator (IPG) to further improve cutting speed, precision and surface quality. The machine can use dedicated wire for decreased part cost and increased throughput, and the POWER-EXPERT module automatically determines the optimal power to send through the wire, which is especially beneficial in stepped parts. The Corner Strategy module automatically adjusts parameters during changes in direction to produce sharp angels and small radii. These features combine to reduce cutting times by up to 18 percent as compared to standard machines.
The FORM 20 offers an outstanding EDM price/performance ratio, and like the CUT E 350, also features Intelligent Power Generator (IPG) technology that gives it the lowest energy consumption levels - just 3.7 kW/h at full power - of all EDM machines on the market today. With every machine pulse, the 70-amp generator continuously optimizes the EDM process and dramatically reduces electrode wear as well as provides extremely uniform surface finishes. The machine reliably generates surface finishes of Ra 0.1 micron and radii down to 0.0007".
Additionally, the FORM 20 sports the company's AC Form HMI (human machine interface) that provides the most user friendly, easiest to learn and most flexible control developed for a die sinking EDM. Combined with full spark generator technology that represents the culmination of 60 years of EDM experience, AC Form HMI allows operators of all experience levels to achieve unmatched results.
At the show, the FORM 20 will be paired with the WorkPartner 1+ compact automation solution to increase productivity through automatic electrode and parts loading and unloading. Palletization options can accommodate up to 20 pallets to allow for unmanned production and maximize lights-out operations.
About GF Machining Solutions
GF Machining Solutions is the world's leading provider of machines, automation solutions and services to the tool and mold making industry and to manufacturers of precision components. The products range from electric discharge machines, high-speed and high-performance milling machines, including clamping and palletization systems, and 3D laser surface texturing machines, to services, spare parts and expendable parts, consumables and automation solutions. GF Machining Solutions is a globally acting division of the Georg Fischer Group (Switzerland) and maintains a presence on 50 sites worldwide within its own organization. Its 3,008 employees generated sales of CHF 905 million in 2014. More information can be found at www.gfms.com/us.
MEDIA CONTACTS:
Karl Kleppek
Director of Business Development
GF Machining Solutions LLC
847.913.5300