Customized Chuck to the Rescue!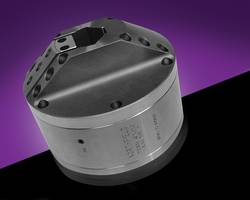 Island Park, NY... Northfield Precision Instrument Corporation is a leader in the design and manufacture of precision workholding chucks. When a good customer required a chuck to hold parts to be mounted to a Studer Grinder for contour grinding into special cutting tools, they turned to Northfield for help. Northfield's engineers customized their Model 650 chuck to use only one jaw for clamping. A special face mounted "V" block jaw was bolted to the chuck face and picks up the "V" locating surfaces of the special cutting tools. The bolt on the "V" is made of hardened tool steel, and is wire cut to finish size. Only one of the chuck's three jaws is used for clamping by driving the work piece into the fixed "V" locator. To insure the flat on the moving jaw aligned perfectly with the flats of the tool, an insert was used that allowed the flat to rotate into position, insuring full contact. Another problem solved by Northfield Precision Instrument Corp.!
Northfield Precision Instrument designs and manufactures the world's most accurate air chucks for any lathe, boring machine, grinder or VMC. Models include through-hole, high-speed and quick-change. Chucks are available in SAE or metric, in sizes from 3" (76mm) to 18" (457mm). Accuracies of 0.001" to 0.00001" (0.254m) are guaranteed. Custom workholding chucks and jaws are available and FREE engineering assistance is offered.
For more information, please contact
Northfield Precision Instrument Corp.
Call Toll Free 1-800-810-2482
Fax (516) 431 - 1928
Email: [email protected].