Custom Oscillators aid in non-invasive medical diagnosis.
Press Release Summary: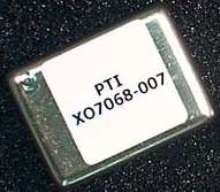 Custom oscillators are time/frequency generation devices embedded in system hardware of diagnostic tools such as CT, MRI, 3D Ultrasound, and Digital X-ray. Crystal-based oscillators, which include OCXO, TCXO, and VCXO, are offered on various platforms from which custom solutions are developed for each unique diagnostic modality. Products exhibit long-term frequency stability and low aging and SSB phase noise.
---
Original Press Release:

PTI Model XO7068-006 and -007 for Non-Invasive Diagnostic Medicine


Non-invasive diagnostic medicine (CT, MRI, 3D Ultrasound and Digital X-ray for example) has become a lynch-pin in the improvement in medical condition diagnosis over the past three decades. With each successive generation of these various modalities precision and increased image resolution have enabled physicians and diagnosticians to be more effective in their respective tasks.

In most cases these diagnostic tools are becoming ever more dependent upon cost effective time/frequency generation devices embedded deeply to the system hardware. PTI has been a major supplier of crystal-based oscillators (OCXO, TCXO and VCXO for example) to the MRI scanner OEM manufacturing community. PTI offers a wide array of standard oscillator platforms from which develops the custom solution required for each unique diagnostic modality. In most cases the frequencies must be highly accurate (non-standard) and higher in frequency (>200MHz) than oscillators deployed in traditional time/frequency applications such as telecommunications where 10Mhz oscillator are the accepted standard.

PTI's focus for these types of medical applications addresses requirements for long-term guaranteed frequency stability and low aging and industry leading low SSB phase noise to cite just a few of the more important device electrical performance requirements demanded by these applications. PTI does not manufacture any single standard device targeted at this all important marketplace. Rather, it addresses each OEM's unique requirements with a solution that best fits that specific requirement. This one size does not fit all philosophy allows both the potential OEM and PTI to arrive at a best fit for each application, rather than settle for the best available. An example of this technology can be found in PTI Model XO7068-006 and -007.

For further information on this product and other PTI products, please visit us at piezotech.com

More from Machinery & Machining Tools