Custom Multiconductor Cable Harness for Industrial Laser Application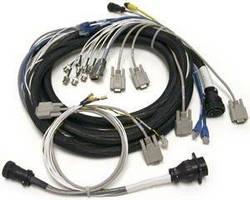 A manufacturer of industrial lasers used for etching integrated circuit wafers required a series of cables and harnesses to connect the various functions of the machine. Included in the requirement was a single entry point for the cables to pass through a bulkhead. The electronic signals for the cabling included RF, power, data and video. Due to the industrial application, the assemblies needed to operate in a high vibration and require sufficient shielding to endure an extreme noisy RF environment. RF Industries provided the design, fabrication and testing of the various cables, including the methodology to encapsulate into a single lightly armored jacket for passing through the bulkhead and survive the harsh environment. Design and fabrication were provided by the Multi-Conductor product group of RF Industries in San Diego



Available from the Multiconductor Group of RF Industries. For additional information contact RF Industries at 800-233-1728 or 858-549-6340, rfi@rfindustries.com or visit our web site at www.rfindustries.com. RF Industries (NASDAQ: RFIL) is a leading supplier of connectivity solutions provided through its operating divisions: RF Connectors, RF Cable Assembly, Aviel Electronics, OddCables.com and Cables Unlimited.

More from Electronic Components & Devices