Cushion Mounting Tapes offer 3 levels of compressibility.
Press Release Summary: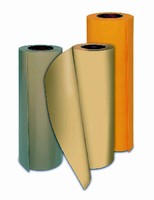 Designed to accommodate range of flexographic printing applications, R/bak SA 3000 Series open cell polyurethane mounting tapes come in 15 and 20 mil and provide cushioning needed to absorb shock. Soft R/bak SA 3100 is intended for combination jobs with demanding halftone process and fine screen work, while medium R/bak SA 3300 is suited for combination jobs with screen, line, and solid work. Firm R/bak SA 3500 addresses combination jobs with bold lines and solids with darker screens.
---
Original Press Release:

Rogers Corporation Will Feature Its Line of R/bak® SA 3000 Cushion Mounting Tapes with Improved Handling



ROGERS, Conn. - [April 7, 2008] - Rogers Corporation (NYSE:ROG) will exhibit three cushion mounting tapes from its R/bak® SA 3000 product family at the 2008 INFO*FLEX Show in Dallas, TX, April 28-29 (Booth # 426/428).

The R/bak SA 3000 series now includes three levels of compressibility to accommodate the full range of flexographic printing applications - from process work, to combination jobs, as well as lines and solids. These tapes offer consistent print results, higher print quality and easier handling.

o R/bak SA 3100 - Soft - 15 and 20 mil for combination jobs with demanding halftone process and fine screen work.

o R/bak SA 3300 - Medium - 15 and 20 mil general purpose for combination jobs with screen, line and solid work.

o R/bak SA 3500 - Firm - 15 and 20 mil for combination jobs with bold lines and solids with darker screens.

R/bak Cushion Mounting Materials contribute to improved operating performance through faster startups, higher line speeds; fewer press adjustments and less damage while providing award-winning print results. Rogers' open cell polyurethane mounting tapes provide the cushioning needed to absorb shock better and provide lower overall cost for flexographic printing operations.

On Tuesday, April 29, Brett Kilhenny, R/bak Business Manager, will present "The Interaction of Plate and Cushion Mounting Tape - A Holistic Approach to Tape & Plate Selection" at the FTA Annual Forum Session. Kilhenny will discuss how examining the properties of both plate and cushion as a single unit can lead to better prediction of on-press performance.

Rogers' R/bak materials offer a broad range of cushion-mounting products for flexographic printing and are available worldwide through an extensive network of knowledgeable distributors. For more information, please visit www.rogerscorporation.com/rbak.

About Rogers Corporation
Rogers Corporation (NYSE:ROG), headquartered in Rogers, Conn., is a global technology leader in the development and manufacture of high performance specialty material products for a variety of applications in a wide range of markets including: portable communications, consumer products, communication infrastructure, ground transportation, and aerospace and defense. Most of the Company's products are covered by trade secrets or patents. Rogers operates manufacturing facilities in Arizona, Connecticut, and Illinois in the U.S., in Ghent, Belgium and in Suzhou, China. Asian sales offices are located in Japan, China, Taiwan, Korea, India and Singapore. Rogers has joint ventures in Japan and China with INOAC Corporation, in Taiwan with Chang Chun Plastics Co., Ltd. and in the U.S. with Mitsui Chemicals, Inc. The world runs better with Rogers.® www.rogerscorporation.com

More from Agricultural & Farming Products