Cultec Stormwater System Offers Flexibility, Strength for Csk Auto, Inc. Expansion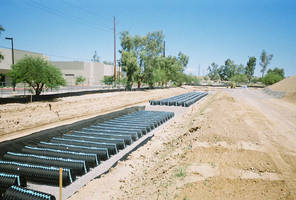 BROOKFIELD, CT – When CSK Auto, Inc. was planning to expand the company's Phoenix-based warehouse, land constraints played a vital role in the selection of the management method for stormwater retention.  CULTEC, Inc. provided a solution by installing a multi-level subsurface retention system with the ability to store vast amounts of post-development stormwater run-off.  The system also helped the owner manage the remainder of undeveloped land in order to maximize the building's expansion, parking areas and access drives.



Engineers from Phoenix-based Evans Kuhn and Associates, Inc. specified a CULTEC two-tiered subsurface retention system in order to capture, treat and retain run-off until it could be displaced.  The system included approximately 2,400 Recharger® 330 HD chambers constructed of high-density polyethylene, designed to maintain a significant permanent pool of water between rain and snowfall events. 



"The design flexibility of the chamber beds allowed configurations that were not possible with traditional underground retention storage methods such as concrete vaults or corrugated metal piping which both require more maintenance and in some cases even lift stations," said Todd Nedderman, the project's civil engineer from Evan Kuhn and Associates, Inc.  "Working on a previously developed site with limited space for expansion can be challenging to design both in terms of cost as well as the ability to provide enough land for adequate parking and access."



Another benefit of the CULTEC system was its strength and durability.  CULTEC's Recharger® 330 HD chambers are designed for traffic applications and are capable of withstanding the weight of 18-wheel trucks that visit the warehouse daily.  The chambers feature a built-in endwall for strength through the system as well as a patented, overlapping rib connection which affords easy installation and a stronger connection between chambers.  Furthermore, CULTEC offers a 10-year warranty on all multi-level installations, a benefit not currently offered by any other system on the market.



CULTEC, Inc., headquartered in Brookfield, Connecticut, is a national manufacturer of plastic chambers used in subsurface retention/detention stormwater management systems and septic installations.  In addition, CULTEC has designed its own manifold and water quality systems to complement its product line.  CULTEC currently offers the largest variety of sizes and types of products than any other chamber manufacturer.  The company's Recharger® and Contactor® chambers are used extensively in Clean Water Act applications, utilize high-density polyethylene material, a patented interlocking rib connection and full-formed endwall to achieve long life and durability.



More from Electronic Components & Devices