CULTEC Adds New Models, Updates Stromwater Chambers in Streamline Technologies' ICPR Software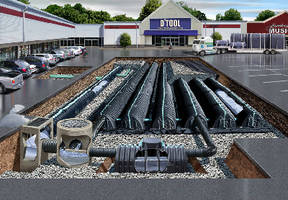 BROOKFIELD, CT/ - CULTEC has added its Contactor® 125, EZ-24, and Field Drain C-4 models to Streamline Technologies' Interconnected Channel and Pond Routing model (ICPR). The company also updated the Recharger® V8HD size parameters in ICPR to reflect the recent chamber size modifications. The Recharger® V8HD is now 32 inches high and 60 inches wide, with a bare chamber capacity of 8.68 cubic feet per linear foot.

Design professionals who use ICPR to model CULTEC chambers need to download an updated zip file and extract the files to the folder called "chambers" under the ICPR3 program folder, which is typically found at C:Program FilesICPR3chambers. Customers can access the zip file by going to www.cultec.com/whats-new.html or www.streamnologies.com.

Streamline Technologies' ICPR is used for a variety of stormwater management and drainage applications, including detention pond design, stormwater management master plans, flood insurance studies, drainage retrofits, and roadway drainage systems. It calculates stage-area-volume relationships for underground stormwater systems, including the entire CULTEC Contactor and Recharger series.

CULTEC's Contactor EZ-24, 100, 125 and Field Drain C-4 are lower profile, lower capacity chambers that can accommodate systems with high water tables or other depth restraints or when a larger infiltrative surface area is required by design. The Recharger series included in ICPR are high-profile, high-capacity chambers that can be used for retention, detention, recharging, or controlling the flow of on-site stormwater runoff.

For more information, please call (800) 4-CULTEC or visit www.cultec.com.

About CULTEC

In 1986, CULTEC introduced its Contactor® and Recharger® HDPE septic and stormwater chambers and helped begin a revolution toward the use of plastic construction products. Since then, several product developments and strategic alliances have made CULTEC a cutting-edge R&D-based manufacturer. CULTEC chambers can be used as subsurface retention or detention systems and as replacements for ponds, concrete structures or pipe and stone installations.

CULTEC manufactures nine different chamber sizes ranging from 8.5" - 32" to accommodate almost any site parameter. The chambers' perforated sidewalls and fully open bottoms promote maximum infiltration capability and allow for the transfer of high volumes of water at a low velocity. The units can be installed singularly or in series in single- or multi-layer beds.

In addition, CULTEC developed its own in-line side portal manifold system, which eliminates the need for a conventional pipe header system, and water quality unit for maintaining CULTEC chamber systems. CULTEC products meet H-25 wheel load requirements, have a 10-year warranty and are currently modeled in HydroCAD®, Bentley Systems, Inc.'s PondPack®, BOSS International's StormNET®, and Streamline Technologies' ICPR®.

CULTEC's technical staff offers free design assistance including preliminary calculations and job-specific CAD details. A free CULTEC StormGenie(TM) -- AutoCAD® Plug-In for designing CULTEC systems and a free HydroCAD CULTEC custom edition are also available from the company. In addition, CULTEC products can contribute to the U.S. Green Building Council's credits, under the LEED rating system, when the project is designed per LEED requirements.

More from Computer Hardware & Peripherals