Crystal Oscillators feature low standby current.
Press Release Summary: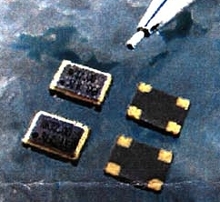 Series CO43S and CO46S cover frequency range of 1.00 to 133 MHz and are offered in frequency stabilities of ± 25, 50, and 100 PPM. Operating current is 3.3 V, with current drains of 12, 25, 35, and 60 mA, depending on frequency range of oscillator. Standby current is 10 microA max. Standard temperature range is -20° to +70°C, and an extended range of -40° to +85°C is available. Surface-mount oscillators are housed in ceramic package measuring 5.0 x 7.0 x 1.8 mm.
---
Original Press Release:
Raltron's New Low Standby Current Crystal Oscillator Is A "Stand-Out"

Raltron Electronics Corp., Miami, Florida has just announced the
availability of its new surface mount crystal oscillator featuring a low standby current of a mere 10uA max. This new series should be particularly appealing for designers seeking components that lead to an extended life for battery powered instrumentation, portable equipment and consumer products.

With a frequency range of 1.00 to 133 MHz, the new series CO43S
and CO46S are offered in frequency stabilities of ± 25, 50 and 100 PPM in a ceramic package of 5.0 x 7.0 x 1.8mm. Operating current is at 3.3V with current drains of 12, 25, 35 and 60 mA, depending on the frequency range of the oscillator. Standby current in all configurations is a very low drain of 10uA. Standard temperature range for the series CO43S and CO46S is -20°C to +70°C and an extended range of -40°C to 85°C is available.

Packaging is tape and reel with current deliveries quoted at 4-6 weeks ARO. Pricing ranges from $0.90 to $2.00 (dependent on frequency) in lots of 10,000 pieces.

For detailed specifications, sample requests, price and delivery quotations, contact Raltron at their headquarters office:

Raltron Electronics Corporation

10651 NW 19th Street, Miami, FL 33172

Tel. (305) 593-6033 Fax: (305) 594-3973

Web: www.raltron.com E-Mail: sales@raltron.com

Raltron is a globally integrated ISO-9001 certified state of the art manufacturer of an extensive line of frequency management products including broad product lines of quality France quartz crystals, oscillators, filiers and resonators. The company has manufacturing facilities Miami, Japan, Korea, Hong Kong, Singapore, Taiwan, Israel and Europe and its products are marketed through a worldwide network of independently owned representatives and distributors.

Contact:
Tod Raphaely
(305) 593-6033
More from Computer Hardware & Peripherals