Crystal Oscillator Modules are offered in 9 versions.
Press Release Summary: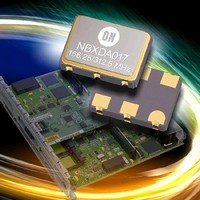 PureEdge(TM) NBXxxxx Series uses high Q fundamental mode crystal and analog phase lock loop multiplier to provide single or dual frequency, ultra low jitter and phase noise LVPECL/CML differential output. Units feature noise floor of -163 dBc/Hz at 10 MHz offset, and phase RMS jitter of 0.4 ps. Housed in 5.0 x 7.0 mm SMD package, oscillators are suited for 1x/2x Fibre Channel, SATA, iSCSI, PCIe, SONET/SDH, Ethernet, and clock margining applications.
---
Original Press Release:

ON Semiconductor Releases New PureEdge(TM) High Performance Single and Dual Frequency Crystal Oscillator Modules



New PureEdge(TM) PLL based devices offer best-in-class jitter performance, high reliability and increased design flexibility in telecom, computing, networking and consumer applications

PHOENIX, Ariz. - May 5, 2008 - ON Semiconductor (Nasdaq: ONNN) a global leader in efficient power semiconductors solutions, announced the expansion of its high performance clock and data management portfolio with the introduction nine new PureEdge(TM) PLL based clock modules for crystal oscillator (XO) replacement. The NBXxxxx series of devices are ideal for high-speed networking, telecom, and high end computing applications.

"The new clock modules from ON Semiconductor represent the company's entry into the frequency control market, leveraging its long leadership position in high performance, ultra low jitter clock distribution," said Dan Huettl, ON Semiconductor general manager and director of the Advanced Logic Division. "These new silicon-based crystal oscillators are simpler to manufacture and provide superior jitter performance compared to expensive crystal oscillators. This supports lower overall system costs and shortened lead times."

The Devices
The new NBXSBA010, NBXDBA012, NBXDBA014, NBXDBA015, NBXDDA016, NBXDBA017, NBXDBA018, NBXSBA020 and NBXSBA021 crystal oscillator modules use a high Q fundamental mode crystal and analog Phase Lock Loop (PLL) multiplier to provide single or dual frequency, ultra low jitter and phase noise LVPECL/CML differential output. The NBXSxxx (single frequency) / NBXDxxx (dual frequency) family of crystal oscillators include the industry's best long-term time domain jitter performance and exceptional device noise floor of -163 dBc / Hz at 10 megahertz (MHz) offset with Phase RMS jitter of 0.4 picoseconds (ps) when integrated 12 hertz (Hz) to 20 MHz allowing bigger clock timing margins for whole system clock tree.

They create sub picosecond (ps) jitter quality clocks delivering single and/or dual frequency of 100 MHz, 106.25 MHz, 125 MHz, 155.52 MHz, 156.25 MHz, 200.00 MHz, 212.5 MHz, 250 MHz, 311.04 MHz and 312.5 MHz that are ideal for 1x/2x FibreChannel, SATA, iSCSI, PCIe, SONET / SDH, Ethernet and clock margining applications.

Key Features:
- Power Supply - 3.3 V 10 percent
- Low Phase RMS Jitter - 0.4 ps (12 kHz - 20 MHz)
- Industry Best Period Jitter - RMS = 0.6 ps; Pk-Pk = 5 ps (JEDEC Standard - 10000 Cycles)
- Industry Best Cycle to Cycle Jitter - RMS = 1 ps; Pk-Pk = 7 ps (JEDEC Standard - 1000 Cycles) - Output Clock Duty Cycle - 48 percent to 52 percent (Max)

Packaging and Pricing
These devices are available in the 5.0 mm x 7.0 mm SMD (CLCC-6) package. The NBXSxxx (single frequency) and NBXDxxx (dual frequency) are budgetary priced at $5.99 for the +/-50 PPM (frequency accuracy) and $7.50 USD for +/-20PPM (frequency accuracy) per unit for 1,000 unit quantities.

For more information, visit www.onsemi.com/PowerSolutions/parametrics.do?id=2146 or contact Prescott Sakai at Prescott.Sakai@onsemi.com.

About ON Semiconductor
With its global logistics network and strong product portfolio, ON Semiconductor (NASDAQ: ONNN) is a preferred supplier of efficient power solutions to customers in the power supply, automotive, communication, computer, consumer, medical, industrial, mobile phone, and military/aerospace markets. The company's broad portfolio includes power, analog, DSP, mixed-signal, advance logic, clock management and standard component devices. Global corporate headquarters are located in Phoenix, Arizona. The company operates a network of manufacturing facilities, sales offices and design centers in key markets throughout North America, Europe, and the Asia Pacific regions. For more information, visit www.onsemi.com.

ON Semiconductor and the ON Semiconductor logo are registered trademarks of Semiconductor Components Industries, LLC. All other brand and product names appearing in this document are registered trademarks or trademarks of their respective holders. Although the company references its Web site in this news release, such information on the Web site is not to be incorporated herein.

Contacts
Anne Spitza
Marketing Communications
ON Semiconductor
(602) 244-6398 anne.spitza@onsemi.com