COVID Inspired Barrier Spaced Hand Pack Tables & Stations Promote Operator Safety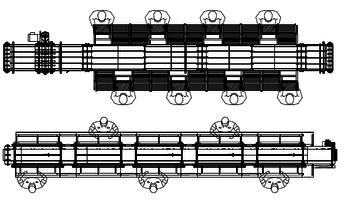 Multi-Conveyor (Winneconne, WI - www.multi-conveyor.com), in collaboration with one of their highly respected East Coast reps, came up with a barrier spaced hand-pack conveyor idea that conforms to social distancing mandates in the workplace.
Simple, ergonomic, cost-effective and hygienic, this "COVID inspired" hand-pack station approach uses a clear, poly-carbonate barrier concept that is spaced to application specification for Operator safety. (Note: Sanitary levels up to 3A Dairy available.)
The length of the pack zones, number of conveyors or required side tables are determined by application, working with individual plant safety guidelines. The barrier spaced stations can also be implemented into existing work areas with ease.
#operatorsafety #simplesolutions
About Multi-Conveyor
Multi-Conveyor is a leading manufacturer of standard and custom conveyor solutions for End-Users, Integrators, Engineering firms, Automation/Robotics, AI, OEM's and Contract Packagers across multiple markets. We specialize in conveyor systems for packaging or material handling for nearly every industry, product, shape and size. Our customers report they select Multi-Conveyor for concept/design, engineering skills, quality product, best value and prompt delivery.
Multi-Conveyor excels in sanitary, easy to maintain, clean-in-place or "no tools required" belt changeover systems for nearly any industry.  We direct manufacture stainless steel and mild steel construction conveyors for table top chains, modular plastic belts, fabric belting and now custom MDR. 
Our in-house electrical and engineering departments execute the controls, panels, devices, PLCs, VFDs, HMIs, safety, inspection and sensors needed to integrate our systems with multiple packaging platforms. Quick ship plastic chain and low-profile, small transfer, pre-engineered sanitary and non-sanitary belt systems are available for quick delivery.
All of these construction designs, technologies and solutions, along with over 90 conveyor videos, can be found on our comprehensive website: www.multi-conveyor.com.
Learn more:  https://www.multi-conveyor.com/packaging-solutions/hand-pack-tables-stations
More from Material Handling & Storage