COTS Enclosures are made of RoHS-compliant materials.
Press Release Summary: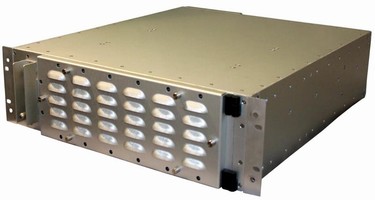 Available in various sizes and configurations including 19 in. rack mount enclosures in 3, 5, 7, and 10U heights and 22 and 25 in., 12R1 modular COTS system platforms have complete EMC shielding integrity with braided gasketing, honeycomb filtering, and blind-riveting. Rugged chassis shell is made of aluminum frames and extruded profiles, and hinged front door panel ensures unobstructed access to boards and drives. Units can withstand up to 15 G of shock and vibration.
---
Original Press Release:

Elma's Rugged Enclosures Get 'Greener'



FREMONT, California, June 30, 2008 - Elma Electronic Inc., a global manufacturer of electronic packaging products, has announced a more eco-friendly 12R1 line of rugged COTS system platforms. The enclosure is lighter and uses RoHS-compliant materials.

Elma's line of 12R1 enclosures are up to 20% lighter than the standard 12R2 line of rugged COTS chassis. This contributes for fuel savings for mobile (Air, Sea, Land) applications. The lighter units also help avionics and other applications meet weight constrictions. The system platforms are modular and come in various sizes and configurations. This includes 19" rackmount enclosures in 3U, 5U, 7U, and 10U heights and 22" and 25".

The 12R1 line is also optionally RoHS (Restriction of Hazardous Substances) compliant. The restrictions include limits of no more than 0.1% (1000 PPM) lead, mercury, hexavalent chromium, polybrominated biphenyls, polybrominated diphenyl ethers and no more than 0.01% (100 PPM) for cadmium. For backplanes, lead-free solder and components must be used. RoHS 5/6 versions are also available for Military applications.

The 12R1 line has complete EMC shielding integrity with braided gasketing, honeycomb filtering, and blind-riveting. The rugged chassis shell is made of aluminum frames and extruded profiles. Power supplies from 350W to over 1400W are available with both air cooled and conduction-cooled options. A hinged front door panel ensures unobstructed access to boards and drives. An I/O patch panel is also located in the rear of the chassis. The light 12R1 design withstands up to 15 G's of shock and vibration, while the heavy duty 12R2 version can handle up to 25 G's.

Pricing for the 12R1 rugged chassis depends on size and configuration. The lead-time is 2-4 weeks ARO.

About Elma Electronic
Elma Electronic Inc. is a leading manufacturer and supplier of enclosures, backplanes, cabinets, cases, and "ready-to-run" packaging for ATCA, CPCI, MicroTCA, Rugged COTS, VME/64x, VXS, VPX, and custom bus structures. Elma's component product line offers a wide selection of top quality switches knobs and LED arrays. The company has been a worldwide supplier of dependable, high performance products for over 35 years. Elma operates three facilities in the continental United States plus has locations in Switzerland, Germany, France, the United Kingdom and Israel.

Elma Electronic Inc. is located at 44350 Grimmer Blvd., Fremont, CA 94538 USA. Telephone (510) 656-3400 - Fax (510) 656-3783. www.elma.com

Lorna V. Singh
Marketing Coordinator
P: (510) 656-5829 x 301
F: (510) 656-3783
lorna.singh@elma.com

Company Contact: Justin Moll, Elma Electronic510.656.3400 fax 510.656.3783 e-mail: justin.moll@elma.com

More from Material Processing