Corrosion Resistant Actuators work in food processing.
Press Release Summary: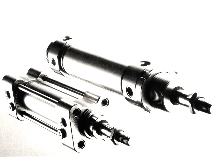 CR Series actuators resist sulfur dioxide atmosphere, sodium chloride mist spray, and water condensation. Five models are available: CRDNG and CRDNGS conform to ISO 6431 and VDMA 24562 standards, have piston dia from 32 to 100mm and stroke lengths between 10 to 2000mm; CRDNG has integrated swivel flange for clevis mounting. CRDSNU and CRDSW are slim-line actuators with round-section barrel for limited space applications. CRDG is available with piston diameters between 12 to 63mm.
---
Original Press Release:

Clean Sweep for Festo's Corrosion Resistant Actuator for Food Processing and Packaging Environments


Over many years, Festo Corporation has established itself as a pneumatic automation component manufacturer for clean and sterile environments, including food processing and packaging. Keeping pace with rapidly changing needs of the demanding applications, the Company maintained an ongoing program of developing stainless steel actuators. The CR Series actuators, consists of five different models that are specifically designed for the most demanding conditions found in not only food processing and handling, but also medical engineering and chemical industry applications. These units are tested for resistance to sulfur dioxide atmosphere (Kesternich test), sodium chloride mist spray, and water condensation.

Two of the actuators (CRDNG and CRDNGS), conform to ISO 6431 and VDMA 24562 Standards, and offer piston diameters from 32 to 100mm and stroke lengths between 10 to 2000mm. These actuators also offer adjustable end-position cushioning; interchangeability with standard actuators and direct mounting via internally threaded end caps. The CRDNG features an integrated swivel flange for convenient clevis mounting.

The CRDSNU and CRDSW are slim-line actuators with round- section barrel design for use in applications where space is limited and mounting flexibility is required. The CRDSNU offers four different piston diameters between 12 and 25mm. The stroke range for the 12 and 16mm diameter units is 10 to 200mm, and the 20 and 25mm diameter piston units can provide strokes of 10 to 320mm and 10 to 500mm, respectively. The CRDSW actuator shares many of the same attributes found in the CRDSNU, however it offers piston diameters (four), ranging between 32 and 63mm. These models offer the same 1 to 500mm- stroke regardless of the piston diameter selected.

Of the five CR Series models, the CRDSNU and CRDSW actuators offer the widest range of mounting options. Both models offer front and rear direct attachment via threaded bearing and rear cap; front and rear retainer hex nut mounting through clear bore; front and rear flange plate; front and rear foot mount, and front and rear flange plate mount. The CRDSW also offers front and rear pivot pin, and front and rear clevis mounting capability, while the CRDSNU can be mounted by it's integral rear swivel bearing, or a single front foot accessory.

The CRDG model is optimized for cost efficiency. It is available with eight different piston diameters between 12 to 63mm. The 12 and 16mm piston sizes can deliver 10 to 200 mm strokes, while the 20 and 25mm piston models can deliver 10 to 320mm and 10 to 500mm strokes, respectively. The 32, 40, 50 and 63mm piston models are uniquely capable of extremely short strokes (1mm), as well as a maximum stroke of 500mm. All mounting options are from the forward portion of the cylinder, but vary slightly according to the piston diameter. Festo also offers mounting accessories to accommodate a full range of attachment techniques.

All of the pneumatic components included in this series have been optimized for corrosion resistance and ease of cleaning. The acid and corrosion resistant pneumatic components are capable of withstanding the highly effective cleaning substances used in these applications, and for the most part, frequent rinsing of the equipment necessitates the use of stainless steel.

Festo's CR Series actuators offer quicker product changeovers, increased automation, long service life, and quick and thorough equipment cleaning with process integrated CIP (clean in place) design. The CR Series offers many attributes that all but eliminate no lengthy downtime or disassembly.


Related