Core Module speeds embedded systems' time-to-market.
Press Release Summary: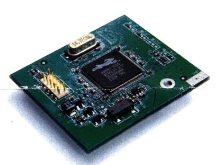 RCM3100 RabbitCore microprocessor core module mounts directly on user-designed motherboard and can interface with all CMOS-compatible digital devices. Powered by Rabbit 3000(TM) microprocessor, RCM3100 has 6 serial ports and operates at 29.4 MHz and 3.3 V. It is equipped with up to 512K each of Flash and SRAM, quadrature encoder inputs, PWM outputs, and pulse capture and measurement capabilities.
---
Original Press Release:

Compact, Low Cost RCM3100 Core Module Speeds Embedded Sytems' Time to Market


Davis, Calif., June 13, 2002 - The new RCM3100 RabbitCore microprocessor core module is the ideal solution for designers who want to rapidly develop and implement embedded systems. Priced at only $27 (qty. 1000), the compact RCM3100 boasts powerful features and a small footprint-1.85" x 1.65" (47 x 42 mm)-to simplify integration. RabbitCores mount directly on a user-designed motherboard and act as the controlling microprocessor for the user's system. RabbitCores can interface with all manner of CMOS-compatible digital devices through the user's motherboard.

Powered by the new Rabbit 3000(TM) microprocessor, the RCM3100 has 6 serial ports and operates at 29.4 MHz and 3.3 V (with 5 V-tolerant I/O). Built-in low-EMI features, including a clock spectrum spreader, help designers eliminate the kind of emissions-related problems that frequently derail tight development schedules.

Available in two models, the RCM3100 is equipped with up to 512K each of Flash and SRAM, quadrature encoder inputs, PWM outputs, and pulse capture and measurement capabilities. Two 34-pin connection headers provide 54 digital I/O shared with the 6 serial ports and alternate I/O features. (The RCM3100 is pin compatible with the Ethernet RCM3000, facilitating cost-effective implementation of both Ethernet and non-Ethernet systems.)

The RCM3100 features a battery-backable real-time clock, glueless memory and I/O interfacing, and ultra-low power "sleepy" modes. A fully enabled 8-bit slave port permits easy master-slave interfacing with another processor-based
system, and an alternate I/O bus can be configured for 8 data lines and 6 address lines (shared with parallel I/O). The Rabbit 3000 processor's compact, C-friendly instruction set and high clock speeds produce exceptionally fast results for math, logic, and I/O.

Programs are developed with the industry-proven Dynamic C® development system, a C-language environment that includes an editor, compiler, and in-circuit debugger. Efficient hardware/software integration facilitates rapid design and development. User programs can be compiled, executed, and debugged using Dynamic C and a programming cable--no in-circuit emulator is required. An extensive library of drivers and sample programs is provided.

RCM3100 models are available July 2 and are priced from $27 (qty. 1000). A complete Development Kit is priced at only $239 and includes RabbitCore module (RCM3110 with 256K Flash/128K SRAM), prototyping board, AC adapter (U.S. only), serial cable for programming and debugging, Getting Started manual, and
complete Dynamic C SE software development system (not a trial version) and documentation on CD-ROM.

Contact Rabbit Semiconductor at T: 530-757-8400, F: 530-757-8402, E: rabbit@rabbitsemiconductor.com, or order online at rabbitsemiconductor.com.

Rabbit Semiconductor
Rabbit Semiconductor is a fabless semiconductor company specializing in high-performance 8-bit microprocessors and development tools for embedded control and Ethernet connectivity. A division of single-board computer manufacturer Z*World, Rabbit Semiconductor introduced its first Rabbit microprocessor in 1999. According to an independent industry survey, design engineers often prefer Rabbit processors over other more established 8-bit microprocessors: An impressive 18.4 percent of those who had used 8-bit chips in the preceding year said they would consider using Rabbit processors in their upcoming design projects. The Rabbit outscored well-known processors such as the Hitachi H8, Philips 80XX/80CXX, and
Dallas 80XX/80CXX. Rabbit Semiconductor is a member of the Fabless Semiconductor Association and is located in Davis, Calif., 70 miles east of San Francisco. (Survey source: Embedded Systems Programming, 2001 Subscriber Study, Final Report, October 2001)


More from Computer Hardware & Peripherals