Core Module includes 22.1 MHz Rabbit 3000® microprocessor.
Press Release Summary: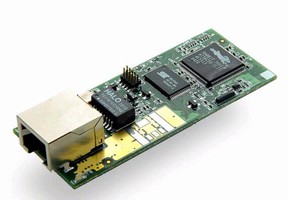 RabbitCore(TM) RCM3750 features 10/100Base-T connectivity, 512 K Flash, 512 K SRAM, 1 Mb serial Flash, 4 serial ports, and 33 digital I/O. Module mounts directly on user-designed motherboard with single 0.1 in., 2 x 20 dual-row IDC header and can interface with CMOS-compatible digital devices. Built-in low EMI features, including clock spectrum spreader, virtually eliminate EMI problems. Dynamic C development system includes editor, compiler, and in-circuit debugger.
---
Original Press Release:
Rabbit Semiconductor Introduces the new RCM3750 10/100Base-T Ethernet Rabbitcore Module
August 25, 2005; Davis, CA - Rabbit Semiconductor is pleased to announce the release of the new RCM3750 RabbitCore(TM) module. Features include a powerful Rabbit 3000® microprocessor running at 22.1 MHz, 10/100Base-T connectivity, 512K of Flash and 512K SRAM, 1 MB of serial Flash, 4 serial ports, 33 digital I/O, small foot print, and low power. The RCM3750 starts at $61, qty. 100. The development kit price starts at $329. Extensive demo programs and software application templates make it easy to get the RCM3750 up and running in no time. Available software modules enable rapid development of secure web browser interfaces for embedded system control. The RCM3750 is the perfect solution for Ethernet / Internet based embedded control systems. This RabbitCore mounts directly on a user-designed motherboard with a single 0.1" (2.54 mm) 2x20 dual-row IDC header and can interface with all manner of CMOS-compatible digital devices. 33 digital I/O (shared with serial ports), power, and other signals are routed directly to the motherboard. Built-in low EMI features, including a clock spectrum spreader, practically eliminate EMI problems, helping OEMs pass European CE and other regulatory RF emissions tests. The Rabbit 3000 microprocessor, RCM3750, and Dynamic C® were designed in a complementary fashion for maximum performance and ease of use in embedded systems. Rabbit Semiconductor's industry-proven Dynamic C development system is a C language environment that includes an editor, compiler, and in-circuit debugger. User programs can be compiled, executed, and debugged using Dynamic C and a programming cable; no in-circuit emulator is required. An extensive library of drivers and sample programs is provided, including royalty-free TCP/IP stack with source code. For more information please visit rabbitsemiconductor.com or speak to a sales representative at (530) 757-8400. Rabbit Semiconductor Rabbit Semiconductor, a Digi International company® (DGII), is a global provider of high-performance 8-bit microprocessors and development tools for embedded control, communications, and Ethernet connectivity. A sister division of single-board computer and software manufacturer Z*World, Rabbit Semiconductor introduced the popular Rabbit 2000Ã,® microprocessor in 1999 and the Rabbit 3000® in 2002. The industry award-winning RabbitCoreTM line of microprocessor core modules was introduced in 2001. Rabbit Semiconductor offers customers a complete embedded design system, including low-cost development kits and comprehensive technical support for both hardware and software issues. Rabbit Semiconductor is a member of the Fabless Semiconductor Association and is located in Davis, Calif., 70 miles east of San Francisco. Arnell J. Ignacio Marketing Specialist Rabbit Semiconductor, Inc. A Digi International, Inc. Company Direct: 530.297.4508 Main: 530.757.8400 Fax: 530.753.8208 aignacio@rabbitsemiconductor.com
More from Communication Systems & Equipment