Coolant-Through-Spindle System retrofits on Fadal VMCs.
Press Release Summary: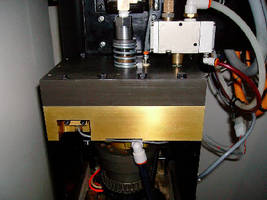 Performance rated to 15,000 rpm and 1,000 psi fluid pressure, CYCLO BLAST meets or exceeds CTS tooling requirements for most applications, including deep hole drilling. Non-air driven system minimizes shop air supply requirements because it requires no vacuum pump to keep post bearing cool. System includes rotary union technology, leakproof belt drive and head, and diverter valve that halts coolant flow instantly when pump is shut off and provides instant flow when restarting.
---
Original Press Release:
New Leakproof Coolant-Through-Spindle System Available as Retrofit on Fadal VMCs
High-pressure, through-spindle coolant system performance rated to 15,000 rpm and 1000 psi. Simple-to-install retrofit for machines with or without existing coolant-through-spindle systems Owners of Fadal vertical machining centers now have the opportunity to maximize machine efficiency and extend tool life with the new CYCLO BLAST coolant through-spindle (CTS) system. Available from MAG as a retrofit on Fadal's line of small VMCs, CYCLO BLAST is performance rated for 15,000 rpm and up to 1000 psi (68.9 bar) fluid pressure, meeting or exceeding CTS tooling requirements for most applications including deep hole drilling. The retrofit is available for all 40-taper Fadal VMCs, including the 3016 and 4020 models, regardless of the machine's original coolant-through-spindle setup. The retrofit can be installed in as little as two hours, and the simple design eliminates need for an extended drawbar post, making servicing the system as quick and easy as non-CTS systems. Complete systems are available for machines not previously fitted with CTS. The CYCLO BLAST system is mechanically concise and simply designed using proven rotary union technology for reliability and extended seal life. "Leaky coolant seals can cause the drive belts to slip, resulting in rigid tapping and part cutting issues," said Dan Cooper, Product Manager for MAG Services. "A leakproof belt drive and head area ensure longer life for drive belts, motor mounts and other vulnerable components." A non-air driven system, CYCLO BLAST reduces shop air supply requirements because it requires no vacuum pump to keep the post bearing cool or clean up spilled coolant. The system includes a diverter valve to halt coolant flow instantly when the pump is shut off, and provide instant flow when restarting. There is a one-year warranty on all CYCLO BLAST system replacement parts. "This high-pressure coolant-through-spindle system breaks up the chips to facilitate evacuation, minimize tool overheating and extend tool life," added Cooper. "The ability to control tool overheating also allows faster feed rates, higher productivity and higher surface quality." Pumping coolant directly through a machine's spindle to the cutting tool has been proven to boost productivity and optimize run time by as much as 200% in some applications. MAG Services covers all aspects of aftermarket support including tooling and coolants, retrofits and rebuilds, application engineering and field service. For additional information on MAG Services, visit mag-ias.com. About MAG
MAG is a leading machine tool and systems company serving the durable goods industry worldwide with complete manufacturing solutions. With a strong foundation based upon renowned brands such as Cincinnati, Cross Hüller, Fadal, Giddings & Lewis, Hüller Hille, Witzig & Frank, Hessapp, Ex-Cell-O, Honsberg and Boehringer, MAG is recognized as the preeminent provider of tailored production solutions based on state-of-the-art technology. Key markets served include aerospace, automotive and truck, heavy equipment, oil and gas, rail, solar energy, wind turbine production and general machining. With manufacturing and support operations strategically located worldwide, MAG offers comprehensive lines of equipment and technologies including process development, automated assembly, turning, milling, automotive powertrain production, composites processing, maintenance, automation and software, and core components. For more information about MAG, please visit: www.mag-ias.com
Related