Conveyor And Briquetter recover separated coolent.
Press Release Summary: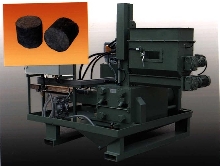 ConSep 2000® II combination, single-platform chip conveyor/coolant separator removes chips and contaminates to 50 micron level. Features include self-cleaning backwash filter system, and cleaner for particulate removal to 10-15 nominal micron level. FastPac(TM) Briquetter processes 110 to 6,614 lbs of metal chips per hour (depending on model) and transforms material into dense, dry briquettes. Coolant recovery removes up to 98% of residual coolant and cutting oils.
---
Original Press Release:

A Chip Off the Old Block & Blocks of Chips


Mayfran International introduces next generation of at-the-machine chip separation/coolant cleaning, plus chip "briquetting" system for cost-saving scrap handling

Mayfran International's IMTS 2002 exhibit, Booth D4515, will display two of the company's innovative new products designed to improve the efficiency and economies of chip handling and coolant reclamation. Special emphasis will given to the new ConSep 2000® II combination chip removal/coolant filtration unit, while the spotlight will also shine on Mayfran's FastPac(TM) Briquetter which will demonstrate compressing aluminum chips into high-density, compact briquettes.

The new FastPac Briquetter series, with model capacities from 50 kilograms to 3,000 kilograms (110 lbs. to 6,614 lbs.) of metal chips per hour, increases the value of scrap ferrous and nonferrous materials by transforming metalworking chips, strings and nests, fines and grinding sludge into dense, dry briquettes. FastPac's unique design results in a compact, space-saving footprint and typically requires less energy consumption and lower operating costs than other briquetting machines. Plus, with FastPac, coolant recovery is more efficient because it removes up to 98% of the residual coolant and cutting oils during compression. FastPac is a product of RUF GmbH & Co. KG.

The ConSep 2000 II is the second generation of single-platform chip conveyor/coolant separator that removes chips and contaminates to a 50 micron level yet is designed to replace standard machine tool chip conveyors in approximately the same size and footprint requirements. The ConSep 2000 II has been given a new, 6 inch lower profile to fit with a wider range of machine tools. The number of parts have also been reduced which lowers the cost, including a simplified single conveyor system for less coolant carryout losses, along with an enhanced self-cleaning backwash filter system. . . a combination that makes the unit virtually maintenance free. The new unit is ideal for all types and sizes of chips, including strings and nests.

The ConSep 2000 II has been made a truly global unit, with controls that interface with international machine tool controls, and construction meeting specifications and requirements of machine tool builders and users worldwide. The ConSep 2000 II can also be equipped with Mayfran's exclusive series of options including the AT Cleaner for particulate removal to 10-15 nominal micron level in the coolant, plus high pressure coolant systems for through-spindle coolant requirements.

Also at the IMTS booth will be examples of Mayfran chip processing equipment and a pumpback station and chip shredder combination. an integral element of Mayfran's Viavent® overhead, centralized multi-machine chip and coolant handling system. Sharing the display floor will also be Filtra System's Mini-Mag Filtration Unit. Visit Mayfran online at www.mayfran.com

More from Mechanical Components and Assemblies