Converter Chip adds FAT file storage to microcontrollers.
Press Release Summary: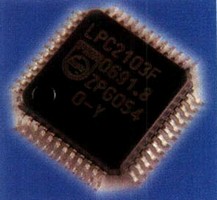 Used with any microcontroller, uALFAT(TM) converts serial data to PC-compatible FAT files so they can be saved in directories in standard FAT file system format. Stored data can be accessed from any device that supports FAT file system, such as PCs, digital cameras, and MP3 players. File read/write speeds up to 60,000 bytes/sec can be made for Secure Digital and Multimedia Cards. Housed in 48-pin LQFP surface-mount package, uALFAT consumes 8 mA and includes 10-bit ADC.
---
Original Press Release:

uALFAT(TM) - Quickly Adds FATfile Storage to Your Microcontroller!



Pittsford, New York. uALFAT(TM) is new way to quickly add megabytes of multimedia storage to almost any project. uALFAT(TM) is a unique serial-to-FATfile converter i.c. requiring very few external components to add PC-readable file storage to even a simple microcontroller (PIC, AVR, Basic Stamp, etc.) Low cost and ease of use makes uALFAT-(TM) the simplest solution for OEMs to add removable data storage to digital devices.

Memory cards are increasingly popular and low-cost - their small size and huge storage capacity has made them ideal for digital cameras and MP3 players. But managing and organizing the data on a memory card from simple microcontrollers is not an easy task. To store data compatible with PCs, usually means complicated development steps that can add months and dollars to tight project development budgets.

uALFAT(TM), however, easily and uniquely converts serial data to PC-compatible FAT files, so they can be saved in directories in standard FAT file system format. Now the stored data can be easily accessed from any device that supports FAT file system (PC, most digital cameras, MP3 players, etc.! Simply, send your data using a serial port, I2C or SPI and uALFAT(TM) will take care of the rest! uALFAT(TM) can be easily used with any microcontroller (e.g. PIC, AVR, Basic Stamp, etc.) and can save a great deal of time and money when you need to add a cost-effective data storage feature to your product. File read/write speeds up to 60,000 bytes/sec can be made for Secure Digital (SD) and Multi Media Cards (MMC). Firmware in uALFAT(TM) is field upgradeable through UART, SPI, or I2C. Additionally, uALFAT(TM) offers a built-in 10-bit ADC, low power- consumption (8mA; sleep - 10uA; and all I/C pins are 5 volt tolerant. uALFAT(TM) comes in a small 48-pin LQFP surface-mount Pb-free package with -40 °C to +85 C temperature operating range.

Applications for uALFAT(TM) include: data loggers, picture viewers, MP3 players, file transfer capability between automated machines and PCs, etc.

uALFAT(TM) is available now for $14.00 (qty 1) from Saelig Co. Inc. NY 585-385-1750; 585-385-1768 fax; info@saelig.com; sae1ig.com) ¦ Additionally, uALFAT-SD(TM) is ready-made uALFAT(TM) board complete with SD socket and is available now for $39.95 (qty 1) from Saelig Co. Inc. NY 585-385-1750; 585-385-1768 fax; info@saelig.com; www.saelig.com).

More: Alan Lowne (alan.lowne@saelig.com)
585-385-1750; -1768fax; info@saelig.com; www.saelig.com).
Saelig Co. Inc. 1160-D2, Pittsford-Victor Rd. Pittsford NY 14534 USA

Related