Connectors and Tubing keep crankcase lines from freezing.
Press Release Summary: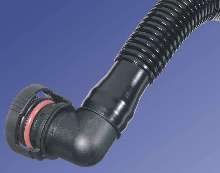 Heated NORMAQUICK® V2 quick-connector and NORMAFLEX® plastic tubing prevent condensation in crankcase ventilation lines from freezing. Tubing can be heated throughout or concentrated in problem areas. Connector is available in various sizes in straight and 90° configurations, while smooth or corrugated tubing is offered with single- and multi-layer construction.
---
Original Press Release:
Heated Quick-Connector Keeps Crankcase Lines from Freezing
WIXOM, MICH...JUNE 4, 2004... NORMA Products (U.S.), Inc. has introduced two solutions to frozen crankcase ventilation lines - heated NORMAQUICK® quick-connectors and NORMAFLEX® plastic tubing that prevent condensation from freezing. The tubing can be heated throughout, or just in problem areas. The heated quick-connector has been specified by a leading OEM for a vehicle that will begin production later this year. It is an enhancement of the NORMAQUICK® V2, commonly used to reduce assembly time in crankcase ventilation, secondary air and fuel line applications. The compact V2 is available in a variety of sizes, in both straight and 90° configurations. The heated tubing, like standard NORMAFLEX® tubing, can be smooth or corrugated. Single-layer and multi-layer construction are available; the latter has proven a cost-effective alternative to rubber hose for meeting LEV II requirements. NORMA Products manufactures a wide range of clamps and connectors, used globally in a wide range of automotive, heavy truck and industrial applications. Examples include FBS (constant tension), TORRO® (worm-drive), Cobra (low-profile), GBS (heavy-duty), and RSGU (pipe). NORMA Products (U.S.), Inc., headquartered in Wixom, Mich., is the North American subsidiary of Rasmussen GmbH of Germany.
More from Agricultural & Farming Products