Confocal Unit brings resolving power to optical inspections.
Press Release Summary: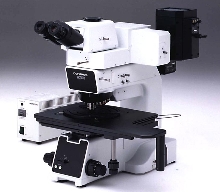 Real-time confocal unit, the U-CFU, features slit method scanning disk, which blocks defocused reflected light from sample and allows only focused light to go through. It generates clear images with 0.18 µ compatibility. Mercury lamp house is standard light source. U-CFU can be integrated into optical inspection systems that need improved resolving power.
---
Original Press Release:

Olympus New Industrial Real-Time Confocal Unit, U-CFU, Brings High Resolving Power to Optical Inspections


July 11, 2002, Melville, NY - Olympus America Inc., Scientific Equipment Group, introduces the new industrial real-time confocal unit, U-CFU. It offers high resolving power with real-time images on Olympus' microscopes. The newly developed spinning disk system is integrated in a compact body. It provides superior image quality in combination with Olympus UIS infinity-corrected optics. The U-CFU provides a cost-effective solution for improved resolving power of microscopes.

The newly developed, slit method scanning disk, blocks defocused reflected light from samples and allows only focused light to go through. It generates clear and high resolving images with 0.18-micron compatibility. A mercury lamp house is the standard light
source, which provides a bright, clear image. It is compatible with Olympus' various microscopes such as MX50/80 wafer inspection microscope and BX2 research system microscope. In addition, thanks to its compact body, it can be integrated into optical inspection systems that need improved resolving power. With the development of the new scanning disk system, cost efficiency has been drastically improved. The U-CFU is an efficient solution for optical inspection systems that require a higher level of resolution.

The U-CFU has excellent Z-axis (vertical) detection. A layer in a multi-layer wafer can be observed distinguishably through this capability.

To learn more about the Olympus U-CFU new industrial real-time confocal or other OLYMPUS products contact: Olympus America Inc., 2 Corporate Center Drive, Melville, NY 11747; Phone: 1-800-455-8236; E-mail: [email protected]; or visit our
website at www.olympusamerica.com.

OLYMPUS AMERICA INC.
TWO CORPORATE CENTER DRIVE, MELVILLE, NEW YORK 11747-3157
TEL (631) 844-5000