Cone Plugs Help Stack Rolls Fast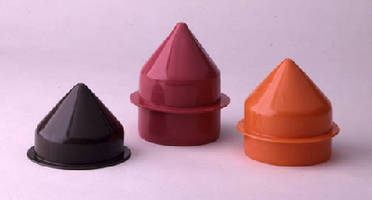 Patented cone tipped double plugs aid in roll stacking, ideal for robotic applications.

(Greenville, Wis.) - Patented plastic double plugs with a cone tip help speed stacking and palletizing of slit rolls whether done manually or with robotic handling. Used in combination with divider sheets with pre-cut holes that align with slit roll cores, the rounded plug bottoms insert easily into holes and cores while the cone tip helps guide the next slit roll core securely onto the plug. Each slit roll in the stack is interlocked to the next by the double plug, and each stack is stabilized as a group by the divider sheets to prevent roll from shifting during transit. Badger Plug offers a range of high-impact thermoplastic double plugs in a variety of stock sizes from 2-3/4" through 8". A video of double plugs in use can be seen at www.badgerplug.com/double-video.html.

Badger Plug: (920) 757-7300 www.badgerplug.com

For over 75 years, Badger Plug Company has manufactured a comprehensive line of core plugs and related products for the protection, suspension and handling of roll products. Badger's plug and roll products are used extensively in packaging and paper, film and foil converting and wherever roll products are used by industry and business.


More from Material Processing