Concrete Densifier hardens and dustproofs concrete.
Press Release Summary: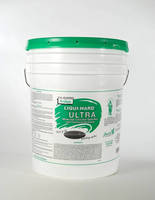 Supplied as colorless liquid, LIQUI-HARD ULTRA penetrates into concrete surface, where chemical reaction takes place that produces byproduct that fills in pores of concrete at molecular level. Finished surface offers abrasion and chemical resistance and is more durable than that of untreated concrete. LIQUI-HARD ULTRA is environmentally safe, water-based product and features zero VOC content.
---
Original Press Release:

Introducing LIQUI-HARD® ULTRA Molecular Concrete Densifier and Chemical Hardener



Hampshire, IL - LIQUI-HARD ULTRA concrete densifier and chemical hardener is a ready to use, colorless liquid, which hardens and dustproofs concrete at a molecular level. After proper application, the finished surface offers substantial improvement in abrasion and chemical resistance and will significantly improve the durability of the surface when compared to untreated concrete. As LIQUI-HARD ULTRA is applied and penetrates into the concrete surface, a chemical reaction takes place, producing a byproduct that fills in the pores of the concrete one molecule at a time. LIQUI-HARD ULTRA solidifies the concrete, eliminating dusting and pitting.

Newly launched, LIQUI-HARD ULTRA is chemically engineered to provide timely, quick, sustainable performance. The product is simply sprayed on, and then left moist on the surface for 20 minutes. In this short period of time, the colorless liquid quickly penetrates into the surface. Unlike traditional densifiers, LIQUI-HARD ULTRA does not require brushing into the surface or rinsing. After application, the resulting surface features enhanced protection and sheen, coupled with superior abrasion resistance. LIQUI-HARD ULTRA can also be used with BELLATRIX and INDUROSHINE® from W. R. MEADOWS for a true green polished concrete system.

LIQUI-HARD ULTRA is an environmentally safe, water-based product and features a zero VOC content. The product is a part of the W. R. MEADOWS GREEN LINE® of earth-friendly products, and will help contribute to credits for LEED-certified construction.

For more information on LIQUI-HARD ULTRA, call (847) 214-2100, e-mail wrmil@wrmeadows.com, or visit www.wrmeadows.com.

FOR ADDITIONAL INFORMATION CONTACT

David Duewel

(847) 214-2100

Brent Weber

(847) 214-2100

More from Material Processing