Computer-On-Module complies with E²Brain standard.
Press Release Summary: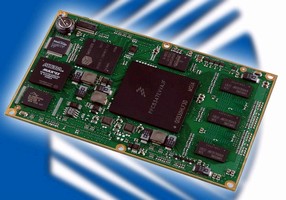 Model EB8347 RISC-based Computer-On-Module is based on Freescale MPC8347 processor with security engine. Features include integrated DVI graphics port, TTL flat panel interface, 2 USB 2.0 ports, 1,008 MIPS @ 533 MHz, 2 Gigabit Ethernet interfaces, and up to 256 Mb directly soldered DDR-SDRAM. With 0-70°C operating temperature range, COM also incorporates up to 64 Mb Flash and 4 serial ports along with on-board RTC, watchdog, and temperature sensors.
---
Original Press Release:

RISC-Based COM with Integrated Graphics



EB8347: Kontron's E2Brain Computer-On-Module with Freescale MPC8347 Processor

Eching/Nuremberg, Germany, February 14th - In time for the Embedded World exhibition, Kontron Modular Computers introduces the EB8347, a new Computer-On-Module that complies with the E²Brain standard for RISC-based COMs which was published 6 months ago. The E²Brain (Embedded Electronic Brain) EB8347 is based on Freescale's MPC8347 processor (or optionally the MPC8347E) with Security Engine; its dazzling features include an integrated DVI graphics port, TTL flat panel interface, two USB 2.0 ports (480 Mbit/s), and 1008 MIPS @ 533 MHz. For the first time, two functions can be integrated into an E²Brain-based RISC system: sophisticated HMI, and real-time controls. With this level of functionality, the EB8347 is in harsh environments an excellent alternative for x86-based COMs. The virtues of RISC shine through: excellent computing power with minimal power consumption, extremely robust mechanical design - with an extended temperature range of 0°C to 70°C (optionally -40°C to +85°) - and availability of seven years or more.

Potential applications for the new E2Brain module can be found in the automation, medical technology, energy, defense, or transportation & automotive industries, to name but a few. Examples in the transportation industry include cockpit computers in cars and trains, construction machinery, or even yachts. Thanks to the maturity of the module technology, OEMs that use the EB8347 can concentrate on their core competences and significantly reduce their time to market.

Besides the attractive MPC8347 processor with integrated user interfaces, the E2Brain EB8347 boasts two Gigabit Ethernet interfaces and up to 256MB directly soldered fast DDR-SDRAM. Additional features include up to 64MB Flash, E²Prom for user and configuration data, 4 serial ports (2 terminal ports Rx/Tx, 4x 16550-compatible), an AC97 audio interface, and an interface for CompactFlash storage cards (slot on the carrier board). Furthermore, RTC, Watchdog, and temperature sensors are on board. Customer-specific expansions are connected via LPC and/or 32 bit, 33/66 MHz PCI bus interfaces. The board requires only a single 3.3 volt power supply.

An operating system-independent boot loader with network support and a Linux and VxWorks board support package are available as software support.

In-system programming is possible via an SPI interface (Serial Peripheral Interface). A JTAG/BDM interface for debugging and on-board programming round out the feature set for the developer. The E²Brain EB8347 will be available from April 2006 and evaluation baseboards will also be made available at this time.

About E²Brain modules (Embedded Electronic Brain)
E2Brain is the first open standard for exclusively RISC-based computer-on-modules (COM) which is supported by the E2Brain Interest Group, founded at the end of 2005. Besides the EB8347, Kontron has six more E2Brain modules, including evaluation kits. Other requirement-oriented E2Brain modules are in development, or will be made available by members of the interest group - second source, as needed. With the use of standardized E2Brain COMs, users no longer need to develop a new processor core for every new device development. They can focus entirely on their real task: the design of devices and the development of specific solutions. The open E2Brain - Embedded Electronic Brain - standard is distinguished by its modular concept, is scalable as needed, and is open to all types of processor architecture, communication interfaces, and I/O interfaces.

About Kontron:
A global leader in embedded computer technology and mobile rugged solutions, Kontron supplies a diversified customer base of OEMs, system integrators and application providers in the automation, test and measurement, communications, medical, gaming and entertainment, military, aerospace, public safety, transportation, and energy markets. The company helps its customers to considerably reduce their time-to-market and to gain a competitive advantage with products including high-performance open computer platforms and systems, single board computers, human-machine interfaces and mobile rugged computers. Kontron employs more than 2,300 people worldwide and has manufacturing facilities in Europe, North America, and Asia Pacific. The company is listed on the German TecDAX 30 stock exchange under the symbol "KBC". Kontron is a Premier member in the Intel ® Communications Alliance which means earliest access to leading-edge Intel technologies and privileged engineering support. For additional information on Kontron, please visit kontron-emea.com.

Reader enquiries EMEA:
Kontron AG
Oskar-von-Miller-Straße 1
85386 Eching/München
Phone +49 81-65 77 0
Fax +49 81-65 77 219
Freecall: 0800-7253756
kontron-emea.com
sales@kontron.com

Product management EMEA:
Winfried Wolf
Kontron Modular Computers GmbH
Sudetenstrasse 7
87600 Kaufbeuren, Germany
Phone: +49(8341)803-0
Fax -499
winfried.wolf@kontron.com


More from Chemicals & Gases