Composite Production Board suits masonry applications.
Press Release Summary: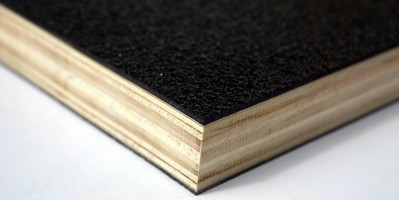 Composite of Chemthane 7030 two-component, 100% solids spray polyurethane and rigid wood or wood laminate core is used in production of concrete and masonry form and support products. Polymer resin, which is 100% solids and zero-VOC formulated, is sprayed directly to prepared wooden substrate to form seamless, plastic barrier against abrasion, impact, and tearing. Even if punctured or torn, wear-resistant coating does not lend to being peeled or torn off wood substrate.
---
Original Press Release:

New Polyurethane for Wood Composite Construction



St, Louis, MO (USA) - Chemline a leading manufacturer of polyurethanes, has introduced a totally innovative composite of Chemthane 7030, two component 100% solids spray polyurethane and wood. This composite production board is the result of decades of experience in the production of specialty coatings for wood protection and encapsulation for concrete forms, audio enclosures and transportation cases.

Before now the production of concrete products mostly made use of production boards made completely of wood or cardboard materials. The disadvantages of these other materials to manufacturers of concrete products include poor product quality, short life span and high production costs.

At the core of this composite is using rigid wood or wood laminate core and Chemthane 7030, heavy wear-resistant coating of polyurethane. The polyurethane significantly extends the lifespan of the wood in comparison with production boards made completely of wood or synthetics, and guarantees long-term consistent quality of the concrete products. Chemthane 7030 is ideal for improved quality and cost-effectiveness in the production of concrete and masonry form and support products.

The synergistic combination of wood or a laminate cores and Chemthane 7030 is truly unique. This composite production boards provides cost-effective advantages in the production of concrete products, and is therefore more a more rapid return on your investment.

More Durable Than Conventional Cardboard or Unprotected Wood.

The polymer resin is sprayed directly to the prepared wooden substrate to form a seamless, plastic barrier against abrasion, impact and tearing. Even if the coating is punctured or torn, Chemthane 7030 forms a tight bond will not allow the coating to be peeled or torn off the wood substrate. In concrete production, the forms coated with Chemthane 7030 can be used for 20x more pulls than unprotected wood or concrete.

Product Details

CHEMTHANE 7030 is spray-applied directly over wooden substrates to form a tough coating for protection against daily use and abuse. The polyurethane is 100% solids and zero VOC so there is no environmental concerns during production of the wood/urethane composite. This product requires 1:1, high pressure spray equipment to create the composite.

About Chemline

Chemline Inc. is a manufacturer of spray-applied, high performance polyurethanes, polyureas and epoxy polymers for use in a wide variety of industrial and construction industries. For more information contact Chemline or visit their web site: www.chemline.net.

Contact: John Henningsen/Chemline Inc.
e-mail: john.Henningsen@chemline.net
Tel: 314-664-2230 or 314-540-2704

More from Controls & Controllers