Industrial / Specific Purpose Computers
CompactPCI System features 15 in. LCD monitor.
Press Release Summary: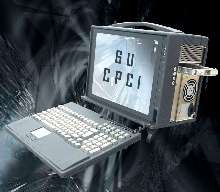 Portable CompactPCI Computer, Model ACP661 includes keyboard and six 6U slots for system boards and/or application specific peripheral cards. Standard package uses cPCI server blade with Intel's® Pentium 4, 1.7 GHz Processor-M, which complies with cPSB systems and supports PICMG 2.16 standard. System includes 1 GB RAM at DDR 266 MHz speeds, 2.5 in. HDD for up to 40 GBs of storage, and dual Gigabit Ethernet for remote or central LAN/WAN connectivity.
---
Original Press Release:

New Rugged CompactPCI Portable System Has 15 Inch LCD Monitor and Six 6U Slots


Azusa, CA (June 16, 2004) - Acme Portable Machines, Inc., a leading provider of rugged portable computers, today announced the availability of their newest rugged portable computing platform, the ACP661. The new system is a portable CompactPCI (cPCI) enclosure with a 15" high brightness TFT screen, keyboard and six 6U high slots for the system boards and/or application specific peripheral cards. Ideal for "on-the-go" demands and backup applications, the ACP661 is targeted for telephony, blade server, and in-field video editing applications as well as for uses as a powerful portable server or workstation.

The ACP661 is designed to pack the power and application flexibility of 6U cPCI applications into a portable, easily moved unit. The backplane supports computer telephony specifications (PICMG 2.5) and meets the PICMG 2.1 hot swap specification for fault tolerant/resilient applications allowing users choices from a variety of technology solutions to configure their systems as portable servers, workstations, portable call centers, or other applications requiring redundancy, reliability and mobility.

For better performance and longer battery life, the capabilities of each system are variable dependent on what system board is installed. However, the ACP661 standard package uses a cPCI server blade with Intel's® Pentium 4 Processor-M on board that fully complies with Compact Packet Switching Backplane (cPSB) systems and supports the PICMG 2.16 standard making it an ideal platform for emerging applications such as for a switch-fabric blade server, mission critical blade server, mission critical and computing intensive applications like third-generation (3G) wireless, voice over Internet protocol (VoIP), networking, image processing and converged data and voice communication applications.

Enhancing these applications, cPCI cards and the cPCI system board are slotted in the left side along side a built-in slim CD-ROM and floppy disk drive (FDD), while a 2.5" hard disk drive (HDD) for up to 40GBs of storage is housed on the right side above a 400 Watt power supply. The ACP661 comes standard with 1 GB RAM at double data rate (DDR) 266 MHz speeds and is equipped with dual Gigabit Ethernet for remote or central LAN/WAN connectivity.

Each system comes with optional cases on wheels as a carry bag or hardened, rugged air cargo case on wheels.

Price And Availability
Built for the versatile demands of computer telephony, the ACP661 with Pentium(TM) 4, 1.7 GHz processor cPCI server blade is listed at $7,780 in quantities of 10 including Windows 2000 OS. Other configurations with additional system boards or different processors are available.

About ACME Portable Machines, Inc.
With worldwide headquarters located outside of Los Angeles in Azusa, California, ACME Portable Machines, Inc. was founded in 1994, to meet the computing needs of extreme environments whether they are in Aerospace, a crime scene location or on an industrial manufacturing plant floor. The company manufactures a broad line of hardy computers and workstations, portable laptop computers also known as lunchbox portables, all-weather keyboards, rackmount displays and keyboards and small and large flat panel displays/kiosks. All products are designed to be integrated with upcoming new technologies offering systems that mean more than just a tool on the road but an investment into the future.

ACME portables have been real life tested and proven effective in meeting the most demanding environments and excel in critical applications such as data acquisition, analyzing LAN/WAN and telecommunication signals, industrial and manufacturing, medical field for diagnostics, onboard and flight line aerospace applications and just plain computing.

Outside of the United States, the company supports its customers and OEM/ODM partners through direct subsidiaries in Europe and Asia and trained distributors worldwide. For additional information on ACME Portable Machines, Inc. and its products, customers can contact the sales department at 1330 Mountain View Circle, Azusa, CA 91702 · phone 626.610.1888 · fax 626.610.1881 · e-mail at sales@portablesys.com. The company is on the World Wide Web at www.portablesys.com.

More from Laboratory and Research Supplies and Equipment