Industrial / Specific Purpose Computers
CompactPCI Board utilizes dual Pentium(TM) processors.
Press Release Summary: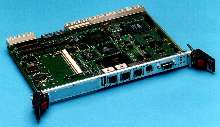 Able to support up to 4 individual Gigabit Ethernet channels, single-slot PP 120/01x uses two 933 MHz Low Voltage Intel® Pentium III processors. Each processor supports 133 MHz front side bus with 512 Kbytes of L2 cache and operates within 12 W thermal envelope. Board offers Serverworks(TM) ServerSet(TM) III LE core logic, up to 1 Gbyte 133 MHz ECC SDRAM, Ultra 160 SCSI interface, and 64-bit 66 MHz PMC site. It operates in system control slot or in peripheral slot.
---
Original Press Release:

Low Power Dual Pentium(TM) III CompactPCI® Processor Board


January 2003 - Concurrent Technologies announces the PP 120/01x, their low power dual Pentium III single slot CompactPCI board supporting four individual Gigabit Ethernet channels.

The PP 120/01x uses two 933MHz Low Voltage Intel® Pentium III processors, where each processor supports a 133MHz front side bus with 512 Kbytes of L2 cache and operates within a 12W thermal envelope. The board also features the Serverworks(TM) ServerSet(TM) III LE core logic, up to 1 Gbyte 133MHz ECC SDRAM, an Ultra 160 SCSI interface and a 64-bit 66MHz PMC site. The PP 120/01x supports PICMG® 2.16 (dual Gigabit Ethernet), PICMG 2.9 (IPMI), PICMG 2.1 and PICMG 2.0 with 33/66MHz CompactPCI signaling. The board can operate in a system control slot or in a peripheral slot with the CompactPCI interface disabled (satellite board). The PP 120/01x is particularly suitable for applications requiring intensive processing capability, especially in multi-tasking applications, low power consumption, and where the number of available backplane slots is limited.

The PP 120/01x also features an EIDE interface with installed EIDE options for an on-board 2.5-inch disk drive (up to UDMA100), or a CompactFlash(TM)/IBM® Microdrive(TM) carrier. For increased reliability, as with all Concurrent Technologies' designs, heat sinks are used in preference to fans for cooling the two CPUs.

Other features available are a PC real-time clock, floppy disk interface, 2 RS232 channels, 2 USB ports, parallel printer port, watchdog timer, keyboard/mouse interface, long duration timer and an Asiliant Technologies 69030 graphics interface.

To facilitate applications requiring rear I/O connections the PP 120/01x is compatible with the optional AD PP4/001 transition module (which is also used with Concurrent Technologies' PP 100/01x, a CompactPCI single Pentium III processor board).

For ease of integration, the PP 120/01x supports many of today's leading operating systems, including Linux®, Windows' XP, Windows® 2000, Windows NT® and QNX®. LAN boot firmware is also supported.

PP 120/01 x prices start from $2988 (for volume pricing).

There is a high-resolution picture available at http://gocct.com/sheets/picture/hires/jpgimage/pp12001x_hires.jpg

Technical datasheet available at http://gocct.com/sheets/pp12001x.htm

For enquiries please contact:

John Sayer
Concurrent Technologies Inc.
Suite 130, 3840 Packard Road,
Ann Arbor, Ml 48108
USA
Telephone: (734) 971 6309
Fax: (734) 971 6350
E-mail: jsayer@gocct.com

More from Sensors, Monitors & Transducers