Industrial / Specific Purpose Computers
CompactPCI Board supports multi-display applications.
Press Release Summary: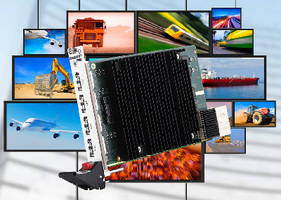 Equipped with 1 GB graphics RAM and AMD Radeon(TM) E6760 GPU supporting Eyefinity technology, Model G214 controls up to 6 displays independently. GPU offers 480 stream processors with frequency of 600 MHz and power dissipation of 35 W. Four DisplayPort 1.2 interfaces deliver max resolution of 4,096 x 2,560 at 60 Hz and color depth of 24 bpp. Supporting DirectX® 11, OpenGL® 4.1, and OpenCL(TM) 1.1, board is suited for video surveillance, A/V equipment, and digital signage applications.
---
Original Press Release:

CompactPCI® Serial Multi-Display Controller G214 with AMD Radeon(TM) GPU E6760



o AMD Radeon(TM) E6760 GPU, 600 MHz

o 6 SIMD engines, 480 shaders

o 1 GB integrated graphics RAM

o AMD EyeSpeed, Eyefinity and HD3D Technology

o DirectX® 11, OpenGL® 4.1, OpenCL(TM) 1.1

o Up to 6x DisplayPort® (4x DP 1.2, 2x DP 1.1a)

o Max. resolution 4096x2560 at 60 Hz, 24 bpp

o 1 PCIe® x8 CPU interface

Nuremberg, Germany - MEN's latest CompactPCI Serial peripheral board G214 offers excellent graphics performance thanks to the AMD Radeon E6760 GPU and is especially suited for multi-display applications. It is used in control rooms for (video) surveillance, in simulators, in professional audio/video equipment as well as in digital signage applications.

A Real Eyecatcher: Excellent Graphics, a Lot of Power

Thanks to AMD's Eyefinity technology which is supported by the E6760 GPU on the G214, up to six different displays can be controlled independent from each other. By standard, the G214 is equipped with four DisplayPort 1.2 interfaces at the front which have a maximum resolution of 4096x2560 at 60 Hz and a color depth of 24 bpp. By choosing a wider front panel two additional DisplayPorts with a resolution of 2560x1600 can be accommodated.

The GPU offers 480 stream processors with a frequency of 600 MHz - having a power dissipation of only 35 W.

The OpenCL standard supported on the E6760 GPU makes it possible to increase the computing power using GPGPU (general purpose computation on graphics processing unit). As the GPU executes the programs with a high level of parallelity, speed is increased considerably.

A 3D graphics engine and Microsoft's DirectX 11 make for an increased graphics performance. The AMD Unified Video Decoder functionality supports the H.264, VC-1, MPEG-2 and MPEG-4 formats.

In a pure CompactPCI Serial system the CPU board can control by default and without bridging a maximum of seven multi-display boards which means 28 different displays. The single displays can be merged into one large picture or deliver differing contents.

Price starting from EUR 995 plus VAT for single units.

You can find this press release and photo http://www.men.de/press.

For product information please go to http://www.men.de/02G214-.html.

Get news from MEN by RSS feed: http://www.men.de/rss

MEN Mikro Elektronik - Profile and Mission

Embedded Solutions - Rugged Computer Boards and Systems for Harsh, Mobile and Mission-Critical Environments

Since its foundation in 1982 our company designs and manufactures failure-safe computer boards and systems for extreme environmental conditions in industrial and safety-critical embedded applications.

With over 200 employees and subsidiaries in France and the USA we have an annual revenue of around 40 million Euros with an export share of about 40%. Customized solutions make for more than half of our revenue. Starting with the development phase, through the design-in and beyond we are at our customer's disposal with advice and support. In addition the standard product range includes far more than 100 different computer boards with x86 and PowerPC technology with the corresponding BIOS, BSP and driver software, manifold I/O boards and completely configured systems based on:

o CompactPCI, CompactPCI PlusIO, CompactPCI Serial and VMEbus SBCs

o Inherently safe computer assemblies, certified according to DAL and SIL

o ESMexpress, ESMini and ESM Computer-On-Modules

o PMC, XMC and M-Modules as system-independent mezzanine I/O standards

o Box computers and display computers

o Network components, gateways and Ethernet switches

The consistent use of FPGA technology gives us high flexibility when configuring customized and standard products.

Our products are used worldwide as control, measuring, test or simulation computers in all kinds of embedded applications. These are extremely safety-critical mobile markets like railway, buses, agricultural machines, commercial vehicles, avionics and shipbuilding as well as other mission-critical applications in industrial automation and medical engineering. Computer systems in such applications are in operation up to 24 hours every day and often need to be available for 10 years and longer. Ideally no failures must occur to avoid costly downtimes of machines or danger to human life.
We are certified to EN 9100:2009 (aerospace), IRIS (railway), e1 (road traffic), ISO 9001:2008 (quality management) and ISO 14001:2005 (environmental management) in order to meet the severe quality requirements in critical applications and to offer our customers the highest quality in products and services while considering environmental protection and occupational safety on the basis of a recognized quality management system.

Our aim is to constantly improve and to provide the highest technology and innovation level. Our business ethics are determined by the principles of the United Nations' Global Compact Initiative (human rights, labour, environment and anti-corruption).

More from Optics & Photonics