Compact Wave Solder Machine suits mid-volume operations.
Press Release Summary: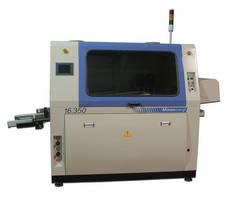 Measuring only 5½ ft long, dual wave System 16.350 includes 13.75 in. wide titanium automatic finger conveyor with built-in finger cleaner. Processing temperatures can be set to lead-free or tin-lead requirements to 300ºC. Other features include convection pre-heat, adjustable spray fluxer, touch-screen control, and low solder warning.
---
Original Press Release:

Manncorp's New Lead-Free Compact Wave Solder Machine Has Features of Larger Systems



Following numerous customer requests for smaller wave solder machines with many of the key features of larger ones, Manncorp has introduced System 16.350. It is a derivative of the 28.400, one of the best-selling high-volume wave solder machines the company has ever offered, according to CEO Henry Mann.

"The 16.350 gives our mid-volume customers the dependability, features and robust construction of our higher-volume model 28.400 -- but in a compact footprint of just 1,675mm (5½ ft.) long. It is a dual wave, includes a titanium 350mm (13.75") wide automatic finger conveyor with built-in finger cleaner. Other features are convection pre-heat instead of uneven IR, an adjustable spray fluxer and touch-screen control. Dollar-conscious assemblers will also welcome the fact that our machine requires less solder -- just 200 Kg -- and even comes with a useful low solder warning."

Processing temperatures can be set to lead-free or tin-lead requirements to 300ºC. It is priced at $23,995. For details, access manncorpwavesolder16.350, call 1.800. PIK MANN (745.6266) or e-mail sales@manncorp.com. Manncorp offers pick-and-place machines, stencil printers, reflow ovens, rework systems, wave solder machines, selective soldering systems, board cleaners, desiccant cabinets, nitrogen generators and more.

About Us:

Manncorp, founded in l968, is a supplier/manufacturer of surface mount production equipment used in prototyping to mid-volume printed circuit board (PCB) assembly. Equipment offered includes stencil printers, flexible pick and place systems, lead-free reflow ovens and wave solder machines. Manncorp "Turnkey Systems" of pre-selected printing, placement and reflow equipment are geared to user throughput and budgetary requirements. Other products include through-hole lead forming, depanelers, component counters, air compressors, desiccant cabinets, stencil cleaners, aqueous PCB cleaners, nitrogen generators, selective solder equipment, solder paste, dispensers and rework systems. All products are described at manncorp.com.

More from Materials