Servo Motor Controllers and Drives
Compact Servo Drives combines high power, compact package.
Press Release Summary: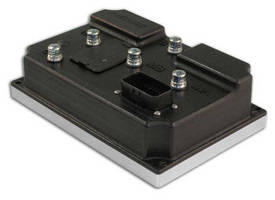 Designed and built for traction/propulsion, steering, lifting, or any other electrically driven actuation in mobile electric vehicular platforms, M/V™ series motor controllers can deliver 125 A continuous with 200 A peak for 10 sec at 80 Vdc and 100 A fixed continuous at 175 Vdc. These 4-quadrant servo drives provide power from battery supplies with multiple operating modes for either permanent magnet brushed or brushless motors.
---
Original Press Release:

Advanced Motion Controls' M/V Series Servo Drives Continue to Wow Customers with High Power in a Small Package



Due to popular demand Advanced Motion Controls, of Camarillo, CA, have expanded the capabilities of their popular M/V™ series Electric Mobility Servo Drives.  Key improvements include 125A continuous with 200A peak for 10 seconds at 80VDC, and 100A fixed continuous at 175VDC (previously 80A continuous).  The M/V™ series is designed for electric mobility applications such as traction, steering and lifting for UAV's, AGV's, Material Handling and more.



With just over a year on the market these drives have filled a significant niche in mobile applications.  In addition to traction and steering axes on ground vehicles, the M/V™ series has been designed into aircraft applications such as the compressor drive for lightweight air conditioning units as well as helicopter winches.



The M/V™ series motor controllers are fully functional, four-quadrant servo drives purposely designed and built to operate today's modern mobile electric vehicular platforms.  Providing high power from battery supplies with multiple operating modes, for either permanent magnet brushed or brushless motors, propels this motor controlling series ahead of all others.  Whether for traction / propulsion, steering, lifting or any other electrically driven actuation, the M/V™ series is the newest member in a long line of successful motor controlling solutions from Advanced Motion Controls.  The ability to maximize battery life and extend vehicle operations, essentially running 'lean and mean' is the key to keeping a vehicle operating at peak performance.  With unmatched power density, high efficiency, low weight, cool thermal operation and regen all built in, selecting the M/V™ series is the obvious choice.



More information on the M/V™ series servo amplifiers can be viewed at-

http://www.electromate.com/products/?keyword=Electric+Vehicle+Motor+Controller&d=105553



A copy of this Press Release can be viewed at-

http://www.electromate.com/news/?c=pressreleases&press_id=10537

More from Packaging Products & Equipment