Compact Polarimeter covers 450-1100 nm wavelength.
Press Release Summary: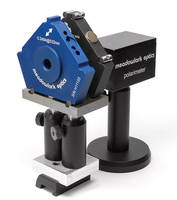 Used for manufacturing and laboratory applications, Meadowlark Optics Polarimeter offers computer control and measures Stokes Parameters 10 times per second, quantifies State of Polarization (SOP), and graphically displays Poincaré Sphere, Polarization Ellipse, or running chart. Solid-state design and use of liquid crystal variable retarders ensure vibration-free operation to ensure compatibility with stability-sensitive applications. Absolute degree of polarization accuracy is <1%.
---
Original Press Release:

Meadowlark Optics Polarimeter Covers Broad 450-1100 nm Wavelength Range



Compact system provides absolute degree of polarization accuracy <1%



Barrington, N.J. – Edmund Optic® (EO), the premier provider of optical components, introduces the Meadowlark Optics Polarimeter.  Ideal for both manufacturing and laboratory applications, the compact, easy-to-use system offers convenient computer control. It accurately measures Stokes Parameters ten times per second, quantifies the State of Polarization (SOP) and graphically displays the Poincaré Sphere, Polarization Ellipse or a running chart.



No moving parts ensure vibration-free operation

The Meadowlark Optics Polarimeter uses liquid crystal variable retarders in combination with no moving parts, to ensure compatibility with a wide variety of stability-sensitive applications, offering vibration-free performance, while minimizing the risk of excessive wear. Patented algorithms provide high accuracy and calibration versatility.



Optional Eigenstate Calibration Set available

An optional Eigenstate Calibration Set can provide a convenient and accurate means to recalibrate the polarimeter to three common wavelengths of 532 nm, 632.8 nm or 1064 nm. RoHS compliant Meadowlark Optics Polarimeters are in stock and available for immediate delivery for fast turnaround and excellent value.



About EO:

Edmund Optics® (EO) is a leading producer of optics, imaging, and photonics technology for R&D, electronics, semiconductor, pharmaceutical, biomedical, and military markets around the globe. EO is the world's largest supplier of off-the-shelf optical components. Customers can purchase items by contacting EO at 1-800-363-1992, via the catalog, or via the website at www.edmundoptics.com.



Company Contact:

Kirsten Bjork-Jones

Director Global Marketing Communications

Edmund Optics®, Inc.

101 East Gloucester Pike

Barrington, NJ 08007 U.S.A.

Phone: 1-800-363-1992

Fax: 1-856-573-6295

email: kbjork-jones@edmundoptics.com

More from Optics & Photonics