Combustion Blowers suit high-output gas-fired burner systems.
Press Release Summary: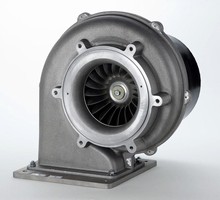 Engineered to deliver measured air/fuel mixture for optimized combustion and reduced nitrous oxide and CO emissions, Nautilair(TM) Series 12.3 in. variable speed brushless dc blowers can achieve maximum sealed pressure capabilities up to 170 in. of H
2
O and open flows to 800 cfm, depending on model. Versions can accept line voltage input of 120 and 240 Vac, and internal electronics convert ac input to dc. Units can be customized for specific application requirements.
---
Original Press Release:

Nautilair(TM) Series 12.3 in. Variable Speed Combustion Blowers



IDEAL FOR HIGH-OUTPUT GAS-FIRED BURNER SYSTEMS

New Nautilair(TM) Series 12.3" variable speed brushless DC blowers introduce high-performance solutions for high-output gas-fired burner systems. These pre-mix blowers have been engineered to deliver a measured air/fuel mixture for optimized combustion and reduced nitrous oxide and carbon monoxide emissions.

They provide ideal alternatives to conventional fixed speed or two-speed blowers, intake damper systems on fixed speed blowers, or inverter-driven variable speed blowers. Typical applications include commercial and residential boilers, hot water heaters, furnaces, foodservice equipment, kilns, and fuel cells, among others.

The Series 12.3" blowers can achieve maximum sealed pressure capabilities up to 170 in. of H2O and maximum open flows to 800 CFM, depending on model. Versions can accept line voltage input of 120 VAC and 240 VAC and internal electronics convert AC input to DC.

Speed can be adjusted internally with an onboard potentiometer or with an external PWM or DC control that actively varies blower performance (eliminating a need for complex air intake damper systems). These high-efficiency blowers are designed to operate in excess of 20,000 hours virtually maintenance-free.

Available add-on expansion cards and other options can be incorporated to customize blower performance for specific application requirements.

New Series 12.3" blowers join a growing family of Nautilair combustion blower products.

AMETEK Technical & Industrial Products is a unit of AMETEK, Inc., a leading global manufacturer of electronic instruments and electromechanical devices with annual sales of more thann $1.8 billion.

Contact Shannon Booth, AMETEK Technical & Industrial Products, 627 Lake Street, Kent, OH 44240. Phone: 330-673-3452. Fax: 330-677-3306. Web site: www.ametektechnicalproducts.com

Related