Combination Gage/Sensor accommodates various remote sensors.
Press Release Summary: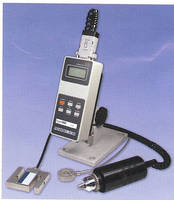 Used to help assess and ensure product quality, BGI Force/Torque Gauge can work with unlimited number of interchangeable remote sensors. Device supports programmable default configuration for each sensor and provides RS-232, Mitutoyo, and analog outputs. Plug-and-play operation eliminates need for calibration and setup, while GCL provides full computer control. Capable of sampling at rates to 65 readings/sec, instrument offers accuracy of ±0.1% of FS ±1 digit + sensor's accuracy.
---
Original Press Release:

Mark-10 Now Features a Combination Gage / Sensor



Mark-10 is a designer and manufacturer of force gauges, torque gauges, test stands and gripping fixtures. Our force and torque gauges and measurement systems are used by quality control, engineering, and manufacturing professionals in virtually every industry around the world to help assess and ensure product quality. Mark-10 now features a combination gage / sensor with interchangeable remote with unlimited number of sensors possible due to its unique design.

Announcing the BGI Force / Torque Gauge is a unique product that is designed for working with interchangeable remote force and torque sensors. These sensors cover a variety of force measurement and torque measurement applications and are available in a broad range of capacities. No calibration or setup is required - simply plug and play. Programmable default configuration for each sensor, RS-232, Mitutoyo and analog outputs, and GCL - Gauge Control Language for full computer control.

Mark-10 digital force gauges can be used in a virtually limitless number of tension and compression testing applications. All force gauges are able to capture the peak force in both tension and compression and have selectable units of measurement. Force gauge capacities are available from 50 g full scale to 1,000 lb, the broadest range in the industry. Mark-10 force gauges may be handheld or used with a test stand and gripping fixtures to create a complete testing solution. All force gauges are CE marked.

Mark-10 products are, above all else, designed to be practical, simple to use, durable, and of great value. Product designs utilize the latest developments in electronics, materials, and sensor technology and are calibrated in our laboratory to NIST (National Institute of Standards and Technology) standards.

Please contact Mark-10 Corporation for technical assistant and engineering support, call Toll Free: 888-MARK-TEN (888-627-5836), Tel: 631-842-9200, Fax: 631-842-9201 for sales Inquiries: visit our Inquiries page, Email: info@mark-10.com or visit www.mark-10.com.