Collimators/Focusers focus light exiting optical fiber.
Press Release Summary: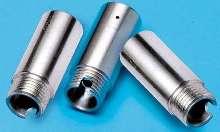 Assemblies provide collimated beam of desired diameter or focus light to one spot. Antireflection-coated lenses are diffraction-limited and are capable of achieving spot sizes as small as a few microns in diameter. Products may be used in pairs to couple input and output light of optical devices and are available in three wavelength ranges: 350-600, 600-1050, and 1050-1600 nm. Effective focal length at 633 nm is 11.0 mm with clear aperture of 5.5 mm.
---
Original Press Release:

Edmund Industrial Optics Announces Fiber Optic Collimators and Focusers


Feb 15, 2003, Barrington, NJ - Edmund Industrial Optics (EO) of Barrington, New Jersey has announced the release of assemblies designed to collimate or focus light exiting an optical fiber. They provide either a collimated beam of a desired diameter, or focus the light to a spot. The lenses in the assemblies are diffraction-limited, so they can achieve spot sizes as small as a few microns in diameter. The lenses are also coated antireflection-coated to reduce back reflection. The assemblies are designed to that they can be used in pairs to couple the input and output light of optical devices. The lens alignment is set (and tested) in the factory, when the lenses are inserted in the stainless steel housing.

The assemblies are easy to integrate with other equipment, can be ordered with FC or SMA connectors, and are available in three wavelength ranges: in the visible from 350 to 600nm, the visible-to-near-IR from 600 to 1050nm, and the IR from 1050 to 1600nm.

The effective focal length (EFL) varies with wavelength, but at 633nm the EFL is 11.0mm with a clear aperture of 5.5mm, while at 780nm the EFL is 15.29mm with a clear aperture of 5.00mm. The housing diameter is 12mm +/- 0.025mm.

About Edmund Industrial Optics Inc.
Edmund Optics (EO) has been a leading supplier of optics and optical components to industry since 1942, designing and manufacturing a wide array of multi-element lenses, lens coatings, imaging systems, and opto-mechanical equipment. EO is application-focused and pursues new ways to implement optical technology, enabling advancements in semiconductor manufacturing, industrial metrology, and medical instrumentation. Our staff and facilities span the US, Europe, Singapore, Japan, and China. EO's skilled optical engineers design precision products for use in research, test & measurement applications, and for the automation of manufacturing processes. Visit www.edmundoptics.com to learn more.

Julianne Wagner
Edmund Industrial Optics
856-573-6250 ext. 6158
jwagner@edmundoptics.com


More from Mechanical Components and Assemblies