Cold Isostatic Press makes many small parts.
Press Release Summary: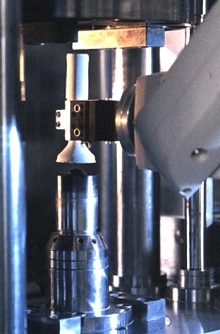 Dry-Bag CIP produces ceramic, carbon, plastics, and powder metal near net and net shape parts. In-line process has automatic and continuous cycling, powder filling, pressurization, decompression, and removal functions. With cycle time of 20 to 60 sec and powder fill dia of 2 to 10 in., it can be used to manufacture grinding balls, valves, tubes, rods, nozzles and implants. It can also press small balls with a dia of 1 to 2 in. at rate of 100 parts per min.
---
Original Press Release:
Engineered Pressure Systems, Inc. Offers Dry-Bag Cold Isostatic Press (CIP) Production Unit

Fast Cycle Times Generate High-production Rates to Produce Large Volumes of Small Parts

Engineered Pressure Systems, Inc. (EPSI), a world leader in custom-engineered high-pressure solutions, offers its Dry-Bag Cold Isostatic Press (CIP) Production Unit. Designed to produce large volumes of small parts, EPSI's Dry-Bag CIP is ideal for the ceramic, carbon, plastics and powder metal industries for near net and net shape parts. EPSI's Dry-Bag is equipped with the capability to change tooling to produce parts of various dimensions on the same press. With a fast cycle time of 20 to 60 seconds and a powder fill diameter of 50-250 mm (2 to 10 in.) the Dry-Bag CIP can be used to manufacture grinding balls, valves, tubes, rods, nozzles and implants. The Dry-Bag CIP can also press small balls with a diameter up to 30mm (1 to 2 in.) in a capacity of 100 parts per minute and may be custom built for larger parts up to a filling diameter of 250mm (10 in.) and a length of 700mm (27.5 in.). EPSI collaborated with the German company, Frey Konstruktion, to produce its Dry-Bag CIP.

EPSI's Dry-Bag CIP features an in-line process that utilizes automatic cycling, powder filling, pressurization, decompression and compact removal, all of which takes place in a continuous operation. Production rates are high and the equipment is fully automated.

About Engineered Pressure Systems, Inc.

Formerly a division of National Forge Company, Engineered Pressure Systems, Inc. is a leading manufacturer of Hot, Cold & Warm Isostatic Press Systems. With its unique application-specific approach to R&D, manufacturing, and testing, EPSI has built a tradition of excellence in high-pressure engineering and technology worldwide.

For more information, contact Engineered Pressure Systems, Inc., 165 Ferry Road, Haverhill, MA 01835. Call 978-469-8280, or Engineered Pressure Systems International, Walgoedstraat 19, B-9140 Temse, Belgium. Call 32 (3) 711 24 64. Visit EPSI on the World Wide Web at epsi-highpressure.com
More from Mechanical Components and Assemblies