Cold Forged Round Heatsinks enhance CoB/MPCB LED heat dissipation.
Press Release Summary: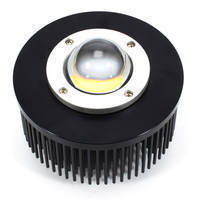 Heatsinks for CoB LED applications use 7 or 10 mm base to address heating needs. Base thickness spreads heat dissipation for effective operation. Heatsinks for Metal Core PCB (MPCB) LED applications use 5 mm base for efficient cooling. Inherently designed with concern for thermal management in mind, metallic board exhibits thermal resistance that promotes heat dissipation over horizontal surface area. Use of thin base accelerates raising of heat to fins to promote heating efficiency.
---
Original Press Release:

GlacialTech Announces Cold Forged Heatsinks Optimized for CoB and MPCB LEDs



New cold-forged designs use special base design to better dissipate heat for specific LED types



Taipei, Taiwan – GlacialTech Inc., an experienced technology manufacturer, today expands its round LED heatsink series with new models from 5cm to 21cm diameter. These new heatsinks are designed to be either optimized for CoB or Metal Core PCB (MPCB) applications through the power of cold forging design.



CoB LEDs

GlacialTech's new heatsinks for CoB applications use a thicker, 7mm or 10mm base to address the specific heating needs of this new LED Technology. CoB LEDs uses LEDs mounted directly to the board to create brighter, more uniform and more efficient LED light sources, but all those LEDs in a small space generate tons of heat in a small area. With a thicker base, heat dissipation spreads over a larger area for the heatsink to operate more effectively. GlacialTech's 7mm and 10mm base heatsinks address this performance issue to cool CoB LEDs more effectively.



MPCB LEDs

GlacialTech's heatsinks for MPCB applications use a thinner 5mm base to provide more efficient cooling these LEDs, which already have good horizontal heat spreading characteristics. Metal Core PCB(MPCB) LEDs are designed inherently with thermal management in mind, and the metallic board itself has low thermal resistance to dissipate heat over a horizontal surface area. With this in mind, GlacialTech's new MPCB heatsinks use a thinner base to quickly raise heat to the fins, improving heating efficiency for this type of LED.



5cm to 21cm

With these new models, GlacialTech now offers 11 cold forged heatsinks from 5cm to 21cm diameter. Sizes are 5cm, 7cm, 8cm, 9cm, 10cm, 11cm, 12cm, 13cm, 15cm, 16cm, and 21cm to fit a variety of LED lighting fixtures. The cold forged process means these heatsinks perform better than traditional die cast heatsinks and come in a one piece design for easy assembly.



GlacialTech's Thermal Solutions

GlacialTech's thermal solutions are designed with a focus on cost-effective performance, as well as weight and volume reduction. GlacialTech's LED lighting applications are designed to offer lightweight, space-efficient cooling at a great value.



Read more about LED thermal solutions in GlacialLight's website:

http://www.glaciallight.com/products/skd-cold-forging.htm



For inquiries about LED thermal solutions contact:

ThermoDesign@GlacialTech.com



About GlacialTech

GlacialTech Inc. is a diversified provider of thermal, power, optics and systems solutions, with many years of experience in thermal module design and manufacturing for internationally renowned brands including Acer, AdvanTech, Fujitsu Siemens Computers GmbH, Panasonic and Siemens AG. GlacialTech's product solutions attain an optimal balance of performance and value. For more information about GlacialTech thermal technology, please visit at www.GlacialTech.com



GlacialTech Press Contacts

Dan Zhang

Account Manager

Email: dan@globalpr.com.tw

Skype: GPR-Dan



Jean-Pierre Skalamera

Director

Email: jp@GlobalPR.com.tw

MSN: GPR-JP@hotmail.com

Skype: GPR-JP

http://www.GlobalPR.com.tw

Tel: +886-(0)2-2882-5577

More from Electrical Equipment & Systems