Co-ax Valves Inc.™ Modules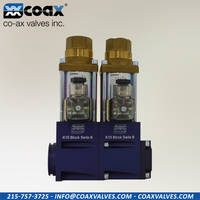 co-ax valves have proven to work excellently in applications with vacuum, gases and liquids as well as abrasive, contaminated and aggressive medias.
Material and installation time can be substantially reduced by using the co-ax modular concept. Besides considerable cost reduction, the co-ax modules save space due to the compact design and greatly reduce the likelihood of leak points. Once installed, a modular system can be easily expanded to meet future demands. Separation plates can be installed between the modules of the assembly, thereby offering the possibility to operate the various modules with different pressures or media via a second inlet port.
co-ax valves inc.
1518 Grundy's Lane
Bristol, PA 19007
Phone: 215-757-3725
Url: http://www.coaxvalves.com
Contact:
Nick Deterding
email: [email protected]