CNOOC Orient Petrochemicals Ltd. Reduces Emissions with DuPont™ BELCO® Wet Scrubbing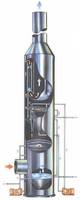 DuPont Clean Technologies Commissions FCCU Emissions Control Systems in China
WILMINGTON, DEL. - FEBRUARY 06, 2018 - In an important move to improve air quality in Hainan Province, China, the CNOOC Orient Petrochemicals Co. Ltd. recently commissioned a DuPont™ BELCO® EDV® Wet Scrubbing system at its oil refinery located on Hainan Island in the southernmost part of China. With the help of this system, the refinery minimizes atmospheric emissions of fine particulate and sulfur oxides (SOx) from its 1.2 million metric ton per annum (MMTA) fluid catalytic cracking unit (FCCU). This is one of CNOOC's major refining bases. The company has invested extensively in recent years to dramatically reduce emissions and improve the quality of gasoline and diesel to meet the new Chinese national emissions standards. CNOOC uses BELCO® Scrubbers also to control emissions from a 4.9 MMTA FCCU and 1.2 MMTA FCCU at its Huizhou Refinery in Guangdong Province.
The DuPont™ BELCO® EDV® Wet Scrubbing system is a proprietary process that cleans combustion flue gases from FCCUs, a major refinery upgrading unit that produces valuable gasoline, diesel and petrochemical feed stocks from heavier, less desirable petroleum products. The system at CNOOC Orient Petrochemicals Co. Ltd. was fitted by Beijing Milestone Technologies (MSTN) under license from DuPont Clean Technologies. MSTN and DuPont have licensed and supplied over 60 new BELCO® EDV® Wet Scrubbing systems for FCCUs in China, preventing over 200,000 tons per year of air pollutants from sulfur oxides and fine particulate emissions to the atmosphere.
"With China's oil refining capacity, currently over 700 million tons per annum and set to exceed 900 million tons within a few years, refinery emissions control is an environmental imperative for the country," said DuPont Clean Technologies Global Business Director Eli Ben-Shoshan. "DuPont Clean Technologies works with refinery and sulfuric acid industry customers around the world to tailor their ranges of emissions control solutions to meet site-specific environmental, cost and operational goals. We are delighted to be able to help CNOOC Orient Petrochemicals Co. Ltd. achieve its strategic emissions targets."
The BELCO® EDV® Wet Scrubbing system reliably controls particulate, SOx and NOx emissions in a single upflow tower, thereby eliminating the need for separate control device to manage different emissions. With its unique open-vessel design and non-plugging features, the BELCO® EDV® Wet Scrubbing system is proven to support uninterrupted FCCU operation, where units typically operate continuously for 3-7 years without any maintenance or service shutdowns. It is engineered to handle severe upset conditions including high-particulate carry over and high-temperature excursions.
About DuPont Clean Technologies
DuPont Clean Technologies, a division of DowDuPont Specialty Products Division, applies real-world experience, history of innovation, problem-solving success and strong brands to help organizations operate safely and with the highest level of performance, reliability, energy efficiency and environmental integrity. The Clean Technologies portfolio includes STRATCO® alkylation technology for production of clean, high-octane gasoline; IsoTherming® hydroprocessing technology for desulfurization of motor fuels; MECS® sulfuric acid production and regeneration technologies; BELCO® Wet Scrubbing Systems for emissions control on FCCUs and other refinery scrubbing applications; MECS® DynaWave® technology for sulfur recovery tail gas-treating solutions; and a comprehensive suite of aftermarket service and solutions offerings. Learn more about DuPont Clean Technologies at http://www.cleantechnologies.dupont.com.
About DowDuPont Specialty Products Division
DowDuPont Specialty Products, a division of DowDuPont (NYSE: DWDP), is a global innovation leader with technology-based materials, ingredients and solutions that help transform industries and everyday life. Our employees apply diverse science and expertise to help customers advance their best ideas and deliver essential innovations in key markets including electronics, transportation, building and construction, health and wellness, food and worker safety. DowDuPont intends to separate the Specialty Products Division into an independent, publicly traded company. More information can be found http://www.dow-dupont.com.
More from Cleaning Products & Equipment