CNC Turning Centers are offered with 2, 3, and 5 axes.
Press Release Summary: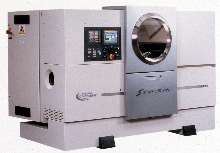 Storm T-series 2-axis turning centers include T2, T4, and T8 models with 1.65, 2.12, and 2.59 in. bar capacities and 7.5, 15, 30 hp spindle motors, respectively. Tri-axial models include T6M and T8M, both with turret-mounted powered tooling and 5 hp tool drive motor. Storm 5-axis sub-spindle single-hit machines add second spindle to Storm T6MS and T8MS turning centers. Equipped with G.E. Fanuc controls, T-series is available in Chucker, Barfeed, and unmanned Lights-Out models.
---
Original Press Release:

NEW from Clausing the Clausing/Colchester Storm T-Series 2, 3, and 5 Axes CNC Turning Centers


Clausing Colchester is introducing a New line of CNC Turning Centers "The Storm T-series." Available in 2, 3 and 5 axes models. 2 axes models: T2 with 1.65" bar capacity and 7.5 hp spindle motor. T4 with 2.12" bar capacity and 15 hp spindle motor and T8 with 2.59" bar capacity and 30 hp spindle motor. 3 axes models: T6M and T8M, are true precision turning centers with turret mounted powered tooling. Storm 'M' models offer real milling power, with a powerful 5 hp tool drive motor, for both radial and axial milling, drilling, boring, and tapping operations. Third axes live turret mounted tooling adds flexibility and large production gains by cutting the number of set-ups and operations. The C-axes positioning increment of 0.001° is fully programmable and contouring selected by M-code. Five axes sub-spindle "single-hit" machines add a powerful second spindle to Storm T6MS and T8MS turning centers allowing the full benefit of "single-hit" machining. By transferring the component to the second spindle, additional turning and milling operations can be completed, finishing the job in a "single-hit."

The Storm 2 and 3 axis CNC turning centers have the 'new generation' G.E. Fanuc 21iT 'B' series CNC control. with 'Manual Guide T' software where all procedures carried out manually or combined with cycles, can be learned step-by-step by the CNC control and repeated as required. Storm 5 axes sub-spindle models use the advanced G. E. Fanuc 18i-TB. These ultra-compact all digital controls have twice the processing speed of previous control. The versatility of its combined CNC and 10.4" color LCD display and optical fibre connections ensure ultra-high-speed serial data transfer and reliable operation under even the severest workshop conditions.

The Storms T-series are available in Chucker, Barfeed and unmanned "Lights-Out" models, with bar capacity up to 2.59". Storms are built to the standards of precision and reliability that Clausing/Colchester lathes are known for. For more details and complete specifications on the Clausing/Colchester Storm Turning Centers contact Clausing/Colchester. 1819 North Pitcher Street. Kalamazoo. Michigan 49007; Phone 269-345-7155; Fax 269-345-5945; Web Site; colchester-cnc.com; E-mail info@colchester-cnc.com.

Company Contact

Kevin Mungovan
General Manager

More from Electrical Equipment & Systems