CNC Machining Center works at speeds to 60 m/min.
Press Release Summary: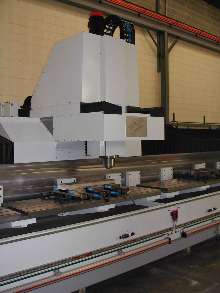 DFT X-Mill multi-tasking VMC features monolithic bed with dual stationary tables, high back wall swarf containment compartment, and raised bed for single- or twin-spindle modules that move spindle in all 3 axes. Tool Centered Feed Force design arrangement centers axis feed force line of action on cutting tool, and bed design allows long and short part machining in single or dual work-zone mode. Switching from single to dual work-zone is accomplished via pushbutton.
---
Original Press Release:
Reconfigurable Multi-Tasking Dual Work Zone 6 meter 60mpm CNC Machining Center at IMTS 2004, Booth A8675 (Metal Cutting Pavilion)

The Bertsche DFT X-Mill is a built for speed (60m/min) long travel multi-tasking versatile vertical machining center that does the work of two. The machine features a newly developed monolithic bed with dual stationary tables, a high back wall swarf containment compartment, a raised bed for either a single or twin spindle module that moves the spindle in all 3 axis. The moving module is mass minimized and built for high feed rate machining. The "Tool Centered Feed Force" design arrangement centers the axis feed force "line of action" on the cutting tool. The machine incorporates a number of Lean Manufacturing Concepts that allows the machine to be quickly reconfigured to perform multiple tasks. A single machine can handle virtually all the needs of any shop the needs to manufacture a wide variety of products on a single machine. The long bed design allows long and short part machining in either single or dual work-zone mode. Switching from single to dual work-zone is by pushbutton. Each of the two main work-zones can be further divided into sub-zones. While parts are machined in one work-zone the other work-zone can be setup for the next job. For an already setup job, the operator loads parts in one zone while the spindle is machining in the other. A single machine achieves the productivity of two with only one operator. The table configuration can be changed. Worktables can be raised or lowered. Additional options include adding an interchangeable fixed or repositioning 4 and 5th axis contouring table for multi-sided machining, machining long cylindrical shafts, shaft key slot milling or extruder screw milling. A second (3) axis machining module can be added for simultaneously machining in both work zones.

Bertsche Engineering Corporation is a designer and builder of high performance standard and custom traveling column long bed machining centers.

For more information Contact:

Bertsche Engineering Corporation, www.Bertsche.com
More from Electrical Equipment & Systems