Clamshell Burn-In Socket accommodates QFN packages.
Press Release Summary: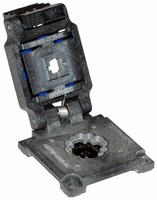 Able to accept QFN packages down to 0.35 mm pitch, 880 Series features compression mount clamshell that allows chipmakers to remove or replace sockets and retain production capacity if they were to be damaged. Specifications include beryllium copper alloy contact, gold contact plating, 20 g contact force, temperature rating of -40 to 155°C, and durability of 30,000 cycles. Socket's wiping-action contact works to create consistent resistance during burn-in, reducing maintenance.
---
Original Press Release:

Chipmakers Stress Latest QFN Packages with New Clamshell Burn-In Socket from Semiconductor Test Supplier Antares Advanced Test Technologies



Antares Releases Its New 880 Series Under Deal With Gryphics, Inc. -- a Wholly Owned Subsidiary of Cascade Microtech, Inc.

VANCOUVER, Wash., Oct. 30, 2007 -- The world's largest supplier of semiconductor test sockets, Antares Advanced Test Technologies, has released a new clamshell burn-in socket that accommodates standard QFN packages down to 0.35mm pitch -- the 880 Series -- in response to chipmaker demand for sockets that accommodate the latest QFN packages and reduce maintenance-related downtimes on the back-end that affect yield, according to Mark Murdza, Antares' director of marketing.

Many chipmakers have effectively called on burn-in suppliers to deliver QFN sockets that both support finer-pitch packages and make it easy for them to replace and maintain sockets to maximize their production capacities, Murdza said.

Antares will supply its latest QFN socket through its global distribution network under an agreement it established with Gryphics, Inc. -- a wholly owned subsidiary of Cascade Microtech, Inc. (NASDAQ:CSCD) -- in the second quarter of this year.

"The 880 essentially supports of our clients' innovation and expands our burn-in portfolio to accommodate lower pitch QFN packages," Murdza said.

Murdza added that the 880's compression mount clamshell is designed to allow chipmakers to remove or replace the sockets and retain production capacity if, for whatever reason, they were to damage them. The socket's wiping-action contact works to create consistent resistance during burn-in and reduce chipmakers' related maintenance and downtimes.

The 880, he said, accommodates QFN packages down to 0.35mm pitch and features a traditional cantilever contact. The socket also features high-performance contacts housed within replaceable contact sets.

The socket's key materials and specifications include its beryllium copper alloy contact, gold contact plating, 20g contact force, temperature rating of -40 degrees C to 155 degrees C and durability of 30,000 cycles.

About Antares Advanced Test Technologies

Antares Advanced Test Technologies is reducing the cost of semiconductor test by concentrating on high-sensitivity areas such as yield and the integration of test disciplines, focusing on customer support, delivering innovative technologies and offering a single point of contact for semiconductor test cell requirements, including burn-in sockets, test sockets, ATE consumables and thermal management solutions.
Antares is headquartered in Vancouver, Wash. and has design, development and manufacturing locations in Suzhou, China; Yokohama, Japan; Phoenix and Gilbert, Ariz.; Milpitas and Santa Clara, Calif.; and Aman, Jordan.
http://antares-att.com/.

About Cascade Microtech

Cascade Microtech, Inc. (NASDAQ: CSCD) is a worldwide leader in the precise electrical measurement and test of integrated circuits (ICs) and other small structures. For technology businesses and scientific institutions that need to evaluate small structures, Cascade Microtech delivers access to, and extraction of, electrical data from wafers, integrated circuits (ICs), IC packages, circuit boards and modules, MEMs, biological structures, electro-optic devices and more. Cascade Microtech's leading-edge semiconductor production test consumables include unique probe cards and test sockets that reduce manufacturing costs of high-speed and high-density semiconductor chips. Information about Cascade Microtech can be found on the Web at www.cascademicrotech.com.

Contacts:

Antares Advanced Test Technologies
Mark Murdza
Director of Marketing
480-682-6270
mark.murdza@antares-att.com
http://antares-att.com/


More from Electrical Equipment & Systems