Clamps, Fixturing Accessories, Machine Tool and Material Handling Components at IMTS 2014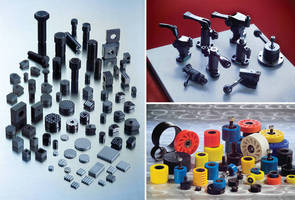 Fixtureworks® (Fraser, MI), www.fixtureworks.net, a leading supplier of workholding and machine tool components, fixturing accessories and  material handling products will showcase its extensive product lineup in Booth W-1686 during IMTS 2014, September 8-13, 2014 McCormick Place, Chicago, IL. 



Featured in the exhibit will be Fairlane® Products full line of fixturing accessories including grippers, rest pads, Swivots® swivel/pivoting positioning components, Quick Release ball-lock pins, rollers and bumpers. Included in the Fairlane Products lineup are the new Urethane Covered Bearing Rollers. These covered bearings have a smooth urethane surface that is cast directly to a precision sealed ball bearing. They provide smooth, quiet and non-marring operation with excellent abrasion resistance and durability. They are available with hardness ranging from 35 to 95 durometer in 1" to 3" diameters.



The exhibit will also feature the company's full lineup of manual clamps from Imao®, OK-Vise® and Mitee-Bite®. Clamps that provide quick and secure fastening for repetitive machining operations and are ideal for easy load/unload of workpieces. They clamps come in a variety of sizes from heavy-duty to mini, clamping-force options from as little as 2 to over 2,200 lb. and configurations that include swing, pull, snap, hook, toe and side.



In addition, also on exhibit will be Kipp® spring plungers, rest and riser pads, levers, handles, knobs, and hand wheels; Imao® supports and stops, risers, T-nuts, sliding mounts, springs, supports, grid plates and blocks; OK-Vise® single and double wedge clamp designs.



itee-Bite® low-profile edge clamps; and Modern Industries mPower™ product line which includes quick change precision locating and mounting systems and modular tooling, plates and columns.



More from Fasteners & Hardware