Cirtronics Installs Powerful 3D AOI Solution for Accurate Inspection Results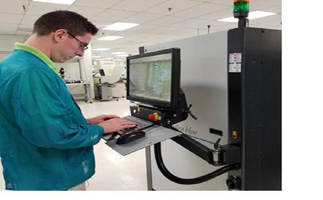 Duluth, GA, October 2016 - Viscom is pleased to announce that it has been selected by Cirtronics for its 3D AOI. Based in Milford, NH, Cirtronics has added an S3088 ultra blue AOI system to each of their production lines in its 175,000 sq. ft. manufacturing space.



The Cirtronics team conducted extensive evaluations on the S3088 ultra blue and competitive systems and found the Viscom units to be superior. David Patterson, Chief Operating Officer at Cirtronics commented, "The contract manufacturing space is very competitive, and because of this, many will just buy on price. Cirtronics is different in that we are always looking for ways to raise the bar for our customers. We also have the ability to see the bigger picture on our ROI analysis, and we found the Viscom system to be the best the market has to offer."



The S3088 ultra blue addresses the growing demand for reliable and easy-to-use 3D AOI technology at an economical price. One orthogonal and four angled view cameras provide full 3D defect detection coverage for components and solder joints on PCBs. The algorithm-based technology that Viscom provides will deliver greater measurement accuracy while inspecting components and solder joints, which in-turn provides feedback to gain tighter process control to optimize the overall quality for each product being produced for Cirtronics' customers.



Patterson added, "We look forward to a long and wonderful relationship with Viscom. Our team just returned from training last week and they continue to be impressed with the Viscom team and the capabilities of the equipment."



Cirtronics is a locally owned and operated contract manufacturer for electronics, electro-mechanical assemblies and box builds for a wide range of markets including med/tech, robotics, communications, aerospace, military, security, industry and others. Cirtronics is an Employee Owned Company (ESOP) and qualifies for US government woman-owned and small business status (WBENC certified WBE WOSB). To learn more about Cirtronics and Precision Engagement®, visit www.cirtronics.com.



For more information about Viscom, visit www.viscom.com.



About Viscom



Viscom AG manufactures and sells high-quality automatic optical and X-ray inspection systems. The company is one of the leading suppliers of 3D solder paste inspection, component placement and solder joint inspection equipment in the PCB assembly market. Viscom systems ensure quality in surface mount technology production lines, where they can be interlinked to further improve productivity. The company's headquarters and manufacturing operation is located in Hanover, Germany. With a wide network of branches, applications and service centers, Viscom is represented throughout Europe, Asia and the Americas. Founded in 1984, Viscom has been listed on the Frankfurt Stock Exchange (ISIN: DE0007846867) since 2006. For more information, visit www.viscom.com.

More from Machinery & Machining Tools