Chucking Systems are available in 2 versions.
Press Release Summary: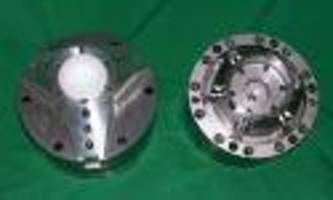 Model 625, ¼ in. stroke and 6 in. diaphragm Hi-Low chucking systems offer on-the-fly and cycle interrupt methods of chucking. Products allow roughing and finishing of machine parts in one operation. Valve system, connected to sliding jaw air chucks, lets users drop jaw force by stopping spindle, rechucking, then contining machining finish cuts with no distortion. Models are available in SAE or metric in sizes from 3- 18 in., with accuracies from 0.001-0.00001 in.
---
Original Press Release:

High-Low Chucking . . . . . That Works!



Northfield has developed two methods of High - Low chucking, "on the fly", and "Cycle interrupt" using Northfield's proprietary valve system, delicate parts can be rough machined and finished in one chucking. The cycle starts with the jaws clamping at high pressure for roughing, then drops down to low pressure for finishing. This has been done in the field with plastic medical parts as well as thin walled hardened steel parts for hard turning.

The two chucks shown here are a model 625 (1/4" stroke) on the left and a 6 in. diaphragm on the right. The diaphragm chuck is holding a thin walled aluminum ring, and the model 625 is holding a plastic "hip-socket". Both parts require a very tight roundness tolerance, and both have a lot of material to be removed. Therefore, the parts are roughed at high air pressure and finished machined at low air pressure.

Northfield introduces a special Hi-Low chucking system that allows you to rough and finish machine delegate parts in one operation. A proprietary valve system connected to our standard sliding jaw air chucks allows you drop the jaw force by stopping the spindle, re-chucking then continue machining finish cuts with no distortion. A propriety valve system connected to our diaphragm chucks allows you drop the jaw force on the fly (while spindle is rotating) for finish cuts with no distortion.

Northfield Precision designs and manufactures the world's most accurate air chucks for any lathe, boring machine, grinder or VMC. Models include through-hole, high-speed and quick change. Available in SAE or metric, in sizes from 3" (76mm) to 18' (457mm). Accuracies of 0.001" to 0.00001" (0.254mm) guaranteed. Custom workholding chucks and jaws are available and FREE engineering assistance is offered.

Contact Northfield Precision Instrument Corp., 4400 Austin Blvd., P. O. Box 550, Island Park, NY 11558-0550. Call Toll Free 1-800-810-2482 - Fax(516) 431-1928; or visit our online product catalog at www.northfield.com.

More from Fluid & Gas Flow Equipment