Chip Resistor Attenuators replace 3 discrete components.
Press Release Summary: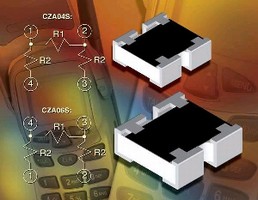 Rated at 0.040 W, Model CZA04S features impedance of 50 Ω, while Model CZA06S is rated at 0.075 W with impedance values of 50, 75, 100, 300, and 600 Ω. Both surface mount units offer attenuation ranges and tolerance values of 1-5 dB at 0.3 dB (L) and 6-20 dB at 0.5 dB (H). They are suited for RF signal attenuation applications in telecom and mobile wireless products. Model CZA04S measures 0.039 x 0.039 x 0.014 in. and Model CZA06S is 0.063 x 0.059 x 0.020 in.
---
Original Press Release:


Vishays New Chip Resistor Attenuators With 0.040W and 0.075W Power Ratings Replace Three or More Discrete Components




MALVERN, PENNSYLVANIA - October 14, 2005 - Vishay Intertechnology, Inc. (NYSE: VSH) today announced the release of new surface-mount chip resistor attenuators capable of replacing three or more discrete components, in turn reducing board space requirements and simplifying manufacture of smaller, lighter electronic systems.

Intended for RF signal attenuation applications in telecom and mobile wireless products, the new Vishay Dale CZA04S and CZA06S reduce component count while improving performance with tolerance matching and temperature tracking superior to that provided by individual components.

The CZA04S features a power rating of 0.040 W and impedance of 50 ohm, while the CZA06S features a power rating 0.075 W with impedance values of 50 ohm, 75 ohm, 100 ohm, 300 ohm, and 600 ohm. Both devices announced today offer attenuation ranges and tolerance values of 1 dB to 5 dB at 0.3 dB (L) and 6 dB to 20 dB at 0.5 dB (H). The frequency range for both the CZA04S and CZA06S is DC to 3 GHz.

The space-saving dimensions of the CZA04S are 0.039 in. by 0.039 in. [1.00 mm by 1.00 mm] with a height profile of 0.014 in. [0.36 mm]. The CZA06S measures 0.063 in. by 0.059 in. [1.60 mm by 1.50 mm] with a height profile of 0.020 in. [0.51 mm]. Operating temperature ranges for the new CZA attenuator solutions are 55° C to +125° C for the CZA04S and 55 C to +150 for the CZA06S.

Both tin/lead (Sn/Pb) and RoHS-compliant, lead (Pb)-free versions of the new devices are available. Extended values, non-standard tolerances, impedance matching, and other attenuation values are available upon request.

Samples and production quantities of the new CZA surface-mount chip resistor attenuators are available now, with a lead time of 10 weeks for larger orders.

Vishay Intertechnology, Inc., a Fortune 1,000 Company listed on the NYSE (VSH), is one of the world's largest manufacturers of discrete semiconductors (diodes, rectifiers, transistors, and optoelectronics) and selected ICs, and passive electronic components (resistors, capacitors, inductors, and transducers). Vishay's components can be found in products manufactured in a very broad range of industries worldwide. Vishay is headquartered in Malvern, Pennsylvania, and has operations in 17 countries employing over 25,000 people. Vishay can be found on the Internet at www.vishay.com.

READER CONTACT INFORMATION
THE AMERICAS
Ray Lehman
Vishay Intertechnology, Inc.
1122 23rd Street
Columbus, NE 68602-0609
USA
Tel: +1 (402) 563-6332
Fax: +1 (402) 563-6565
ray.lehman@vishay.com

EUROPE
Walter Rainer
Vishay Electronic GmbH
Geheimrat-Rosenthal-Strasse
95100 Selb, Germany
Tel: +49-9287-71-2586
Fax: +49-9287-71-2496
walter.rainer@vishay.com

ASIA/PACIFIC
Victor Goh
Vishay Asia Pte Ltd.
25 Tampines Street 92
Keppel Building #02-00
Singapore 528877
Tel: +65-6788-6668
Fax: +65-6788-3383
victor.goh@vishay.com


More from Architectural & Civil Engineering Products