Chip Capacitors measure 0.087 x 0.049 x 0.039 in.
Press Release Summary: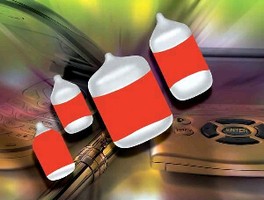 Housed in P case size, Solid Tantalum Series 572D offers capacitance ratings of 10 F at 10 WVdc and 33 F at 6.3 WVdc with tolerances of 10% and 20%. Units feature temperature range of -55 to +85°C, or up to +125°C with voltage derating. Single-sided lead-free terminations enable direct placement under grounding shield applications. Capacitors are suited for I/O buffering, dc-to-dc conversion, and noise suppression in PDAs, cell phones, and LCD display drives.
---
Original Press Release:


Vishays Low-Profile 572D Solid Tantalum Chip Capacitor in 0.039-mm-High P Case Size Offer Capacitance Ratings of 10 F and 33 F




New Tantamount Chip Capacitor Enables Design of Smaller and More Robust Handheld Electronics

MALVERN, PENNSYLVANIA - October 14, 2005 - Vishay Intertechnology, Inc. (NYSE: VSH) today launched new low-profile, high-capacitance solid tantalum chip capacitors packaged in a compact P case size designed to provide superior reliability while making room for greater functionality in compact electronics.

Part of the Vishay Sprague Tantamount product line, the new capacitors in the 572D series are designed for input/output buffering, dc-to-dc conversion, and noise suppression applications in PDAs, cell phones, LCD display drives, and other handheld and portable appliances.

The new capacitors feature a low-profile P case size with single-sided lead (Pb)-free terminations that enable direct placement under grounding shield applications. The unique uniform geometry of each 572D device aids in accurate placement and more reliable performance.

The capacitors small dimensions, which measure 0.087 in. by 0.049 in. by 0.039 in. [2.2 mm by 1.25 mm by 1.0 mm], also allow designers to conserve board real estate and add features to lighter, smaller, and more portable electronic systems.

The capacitance ratings for the devices being released today are 10 F at 10 WVDC and 33 F at 6.3 WVDC with tolerances of 10% and 20% (standard). Tantalum capacitors in the 572D family are conformal-coated and are available in 8mm and 12mm tape-and-reel packaging per EIA4811 and reeling per IEC 2863. The new devices in the P case size are specified for an operating temperature range of -55° C to +85° C, or up to +125° C with voltage derating.

Samples and production quantities of the new 572D capacitors are available now, with lead times of 8 to 10 weeks for larger orders. Pricing for U.S. delivery ranges from $0.12 to $0.15.

Vishay Intertechnology, Inc., a Fortune 1,000 Company listed on the NYSE (VSH), is one of the world's largest manufacturers of discrete semiconductors (diodes, rectifiers, transistors, and optoelectronics) and selected ICs, and passive electronic components (resistors, capacitors, inductors, and transducers). Vishay's components can be found in products manufactured in a very broad range of industries worldwide. Vishay is headquartered in Malvern, Pennsylvania, and has operations in 17 countries employing over 25,000 people. Vishay can be found on the Internet at www.vishay.com.

Tantamount is a registered trademark of Vishay Intertechnology, Inc.

READER CONTACT INFORMATION
THE AMERICAS
Matthew Small
Vishay Intertechnology, Inc.
1754 Main Street
P.O. Box 231
Sanford, ME 04073
USA
Tel: +1 (207) 490-7240
Fax: +1 (207) 490-7213
matthew.small@vishay.com

EUROPE
Thomas Poessnecker
Vishay Electronic GmbH
Geheimrat-Rosenthal-Strasse 100
95100 Selb
Germany
Tel: +49-9287-71-2595
Fax: +49-9287-71-2274
thomas.poessnecker@vishay.com

ASIA/PACIFIC
Song Hee Lau
Vishay Asia Pte Ltd.
25 Tampines Street 92
Keppel Building #02-00
Singapore 528877
Tel: +65-780-7711
Fax: +65-780-7778
songhee.lau@vishay.com


More from Packaging Products & Equipment