Chemical Feed Products withstand corrosive environments.
Press Release Summary: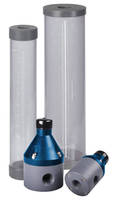 Featuring PVC, CPVC, PP, and PVDF bodies, PBV Series back pressure valves and RPV Series pressure relief valves are chemically resistant, feature spring-loaded diaphragms, and offer choice of end connections to match process requirement. CCS Series Calibration Columns, constructed with clear PVC or borosilicate glass bodies, come in 100–40,000 mL sizes, offer various feed rates, and are available with thermoplastic end connectors as well as choice of tops to suit installation requirements.
---
Original Press Release:

Hayward Flow Control Introduces Chemical Feed Product Lines



Clemmons, NC - Hayward Flow Control announces the launch of its new Chemical Feed Product line. The newly released products include Pressure Reducing Valves, Pressure Relief Valves and Pump Calibration Columns. These new products expand Hayward's industry leading range of thermoplastic fluid handling products and solutions for chemical dosing systems and corrosive environments.



The PBV Series Back Pressure Valves and RPV Series Pressure Relief Valves offer a complete range of thermoplastic body materials, chemically resistant, spring-loaded diaphragms and choice of end connections to match any process requirement.



The New CCS Series of Calibration Columns offer a broad range of feed rates, Clear PVC or Borosilicate glass bodies, a range of thermoplastic end connectors and a choice of tops to suit the installation. These products allow fine control of pumping processes and the ability to proof metering pump deliveries against actual operating conditions.



Additional Key Features & Highlights of Chemical Feed lineup include:

PBV and RPV Pressure Valves

Solid, machined bodies of PVC, CPVC, PP and PVDF

Siphon-proof, spring-loaded diaphragm design

Solid 304 Stainless Steel fasteners that do not penetrate the diaphragm

PTFE Diaphragm with EPDM (standard) or FPM backing

Sizes from ¼ to 4". Metric sizes also available

Standard set pressure of 50 psig, Easily Adjustable

Spring sets available for pressures up to 350 psi

CCS Calibration Cylinders

Sizes from 100 mL to 40,000 mL

Clear Schedule 40 PVC Bodies for easy viewing of draw-down

Direct GPH and mL Readout

PVC, CPVC, PP and PVDF End Connectors with EPDM or FPM Seals

½ thru 4" Process Connection, FNPT, BSPT, Socket, Flanged and True Union

Easy-Clean top available

High Reliability and Low Cost

Maximum Pressure of 15 psi



Typical applications or installations include but are not limited to, waste and water treatment, chemical dosing, transfer and processing, cooling towers, chlorination systems, aquatic and animal life support systems, and metal plating / surface finishing.



All of the Chemical Feed products are backed by Hayward's Exclusive 2 Year Warranty.



Hayward Flow Control, a division of Hayward Industries, is a leading manufacturer of industrial thermoplastic valves, actuation and controls, instrumentation, filters, strainers, corrosion resistant pumps, bulkhead fittings and tank accessories and for use in water and wastewater treatment, chemical processing & transfer, chemical feed, aquatic/animal life support systems and general processing systems. Hayward's thermoplastic flow control products can accommodate aggressive and corrosive environments, delicate ecosystems or the strictest chemical balances to keep water and life working together. Hayward Flow Control is an ISO 9001:2008 Certified manufacturer.



For more information, feel free to contact Hayward Flow Control at 1.888.429.4635 or by e-mail at HYPERLINK hflow@hayward.com.

More from Fluid & Gas Flow Equipment