Chassis provide single or dual PCI expansion slots.
Press Release Summary: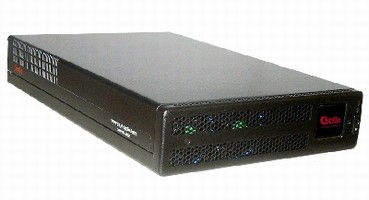 Offering consistent PCI configuration that allows host computer upgrades, LapScope-1 is suited for adding single PCI card to desktop/server using PCI Express slot. LapScope-2 enables user to add multiple PCI cards to mobile computers. Both units feature plug-and-play installation, dedicated cooling and power for PCI cards, and 1 m expansion cable. Used with digitizer cards, chassis are suited for aircraft testing, in-vehicle testing, and testing in remote environments.
---
Original Press Release:

LapScope Family of PCI Expansion Chassis for CompuScope and CompuGen Cards



Lockport, Illinois (September 17, 2007) - GaGe, a worldwide leader in design and manufacture of high-performance PC-based digitizer and oscilloscope cards, today announced its new LapScope(TM) family of PCI expansion chassis for its next-generation CompuScope(TM) and CompuGen(TM) cards. LapScope-1 and LapScope-2 provide single or dual PCI expansion slots for board-level instruments such as GaGe's next-generation digitizer cards. "Our LapScope solution, equipped with one of our high-performance digitizer cards, is the ideal portable digitizer solution for use with your laptop or to provide additional PCI slots for a desktop computer," said Nicole Faubert, Marketing Manager for GaGe products.

Some key features of LapScope-1 and LapScope-2 PCI expansion chassis include:
o Easy Plug and Play installation
o PCI Express® host card provides easy connection to desktop computers and servers, CardBus and ExpressCard modules provide connection to your favorite laptop computer
o Includes 1-meter expansion cable
o 1 or 2 slot PCI backplane
o Dedicated cooling and power for PCI cards
o Supports full-length or shorter PCI cards, including GaGe's next-generation CompuScope and CompuGen cards
o Full-length enclosure supports cards that are 12.74" or shorter and weighs only 2.15 pounds

Offering a consistent PCI configuration that allows easy host computer upgrades, LapScope-1 is the ideal solution for adding a single PCI card to a desktop/server using a PCI Express slot, which has low latency and high PCI throughput. LapScope-2 allows you to add multiple PCI cards to mobile computers, permitting multiple expansion systems to be connected to a single computer. Both LapScope-1 and LapScope-2 are the proven method to increase PCI capability without losing performance.

Used with GaGe's next-generation cards, which include the CobraTM CompuScopes, OctopusTM family of multi-channel digitizers, CompuScope 14200 and CompuScope 12400, the LapScopeTM family of PCI expansion chassis are particularly useful in applications that require extreme mobility and portability, such as aircraft testing, in-vehicle testing, and testing in remote environments where there is no access to AC power.

GaGe's LapScope-1 and LapScope-2 PCI expansion chassis are available to order immediately with a projected lead-time of 6-8 weeks. Pricing starts at $1,295.00 USD for the US market.

For Further Information contact:
Nicole Faubert
Marketing Manager
GaGe/KineticSystems
DynamicSignals LLC
(514) 633-7007 ext. 3034
nfaubert@gage-applied.com

About GaGe
GaGe (www.gage-applied.com), a brand of DynamicSignals LLC (DynamicSignals.com), is a worldwide industry leader in high-performance signal capture. GaGe, KineticSystems, Preston Scientific and Cyber Systems, all brands of the DynamicSignals growing family, serve a wide-range of industries by providing instruments and modules for PC-based test and measurement systems and synthetic instrumentation built on the PCI, CompactPCI, PXI, VXI, CAMAC and proprietary platforms.

GaGe's product offering includes a family of multi-MHz to GHz digitizers and scope cards, analog signal generator cards, digital input and digital output cards, as well as the programming-free GageScope® oscilloscope software and a vast array of powerful Software Development Kits (SDKs).

GaGe's family of signal capture products consists of the CompuScope line of 8-bit, 12-bit, 14-bit and 16-bit digitizers and scope cards for the PCI and CompactPCI/PXI buses. With sampling rates up to 2 GS/s and very deep on-board acquisition memory of up to 4 Gigabytes, GaGe's product line offers the top performance on the market today in the 3 key dimensions of sampling speed, resolution, and memory.

The company's customer focus translates into products that are used across diverse industries such as Communications, Computers, Military/Aerospace, Fundamental Research, and Education. Applications served are Manufacturing Test, Radar (SIGINT), Ultrasonics, Lasers/LIDAR, Spectroscopy, Automated Test Equipment, etc.

For more information on GaGe or any of its products, contact the company at 900 N. State Street, Lockport, IL 60441. Telephone 1-800-567-GAGE Fax 1-800-780-8411

More from Test & Measurement