Chassis allows for mounting 8 SAS or SATA II hard drives.
Press Release Summary: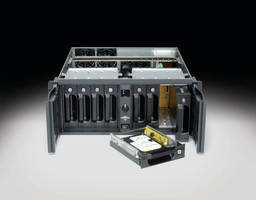 Featuring shock-mounted hot-swap lockable pull-out drive frames at front, 4U DDM 08A-400 expansion chassis supports any combination of 8 Serial Attached SCSI (SAS) or SATA hard drives under RAID 0, 1, 5, or JBOD configurations. Up to eight 3 Gb/sec drives are powered by chassis' 400 W power supply. Shallow-depth chassis is cooled by 12 fans, one 40 mm fan for each drive bay, one 120 mm fan and two 80 mm fans on back of chassis, and one 120 mm fan on power supply itself.
---
Original Press Release:

Mount 8 SAS or SATA II Hard Drives in Only 4U



New CyberResearch® DDM 08A-400 expansion chassis support any combination of eight Serial Attached SCSI (SAS) or SATA hard drives under RAID 0, 1, 5, or JBOD configurations. The hot-swap pullout drive frames are right at the front of the chassis, and they lock for added security. 12 fans keep the drives cool.

If you remember the early '80s, when "experts" opined that PCs would never need more than 20 KB of hard drive, the idea of a PC chassis that accommodates 8 terabytes of SATA or SAS hard drives may give you a smile. But the demand for hard-disk storage has increased at a rate even greater than Moore's Law suggests, so CyberResearch, Inc. is offering the multi-terabyte 4U DDM 08-400 chassis, optimized for RAID 0, 1, 5, or JBOD. Drives go into lockable pull-out frames that are shock-mounted inside the chassis.

Up to eight 3 Gb/s drives draw power from the chassis' 400-W power supply, and users can choose any combination of SATA or SAS drives (drives sold separately). The shallow-depth chassis is cooled by twelve fans, one 40-mm fan for each drive bay, one 120-mm fan and two 80-mm fans on the back of the chassis, and one 120-mm fan on the power supply itself.

In addition to DOM 08A expansion chassis - now shipping from stock - CyberResearch, Inc., also offers rugged industrial PCs and monitors, as well as CPU cards, data acquisition, and motion control. For more information, call Joe Tetreault at 800-341-2525, or visit cyberresearch.com/rackmt.

To request a free copy of the PC Systems Handbook for Scientists and Engineers, call 1-800-341-2525 or e-mail handbook@cyberresearch.com. Outside of the U.S. please call 203-483-8815 or fax 203-483-9024.

LINK TO A SPECIFIC WEB PAGE WITH MORE DETAILS ABOUT THIS PRODUCT
http://cyberresearch.com/news/news184.htm

KEY MARKETS SERVED BY THIS PRODUCT
Any market that utilizes PCs and needs attached redundant storage solutions

KEY APPLICATIONS FOR THIS PRODUCT
Network attached storage, fileserver, media server

PRICE OF PRODUCT

Catalog#	Price

DDM 08A-400	$895.00

TECHNICAL CONTACT NAME AND JOB TITLE
Mike Mathis,Manager of Applications Engineers
TECH CONTACT'S PHONE NUMBER AND EMAIL ADDRESS
1-800-341-2525 ext 101sales@cyberresearch.com

COMPANY'S OR DIVISION'S COMPLETE ADDRESS INCLUDING COMPANY/DIVISION NAME
CyberResearch, Inc.
25 Business Park Drive
Branford, CT 06405

BOTH TOLL-FREE AND LOCAL PHONE NUMBERS
1-800-341-2525 and 1-203-643-5000

Joseph Tetreault
Customer Relations Manager
CyberResearch, Inc.
(203) 643-5003 ext 127 - Direct
(800) 341-2525 - Toll Free
(203) 643-5001 - Fax

More from Electronic Components & Devices