CERATIZIT Offers Rods with Helical Coolant Holes in Grade CTS12D from Stock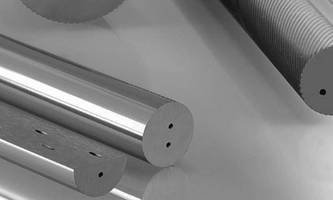 Rods with helical coolant holes in a 6% submicron grade are now offered from stock by the competence brand Toolmaker Solutions by CERATIZIT.
Rods with helical coolant holes in CTS12D available from stock:
In order to meet the increasing demand for diamond-coated drilling tools with through-coolant, we now offer our rods with helical coolant holes (http://www.ceratizit.com/products/rods-preforms/list/detail/?product=49&cHash=cca228c64e217733f0deadc1a3bb31bd) in the submicron carbide grade CTS12D as well. The product can be supplied from stock.
CTS12D is ideal for diamond coating, and is explicitly recommended by all leading companies providing such coatings. Without coating, CTS12D is also used for machining aluminium materials where the 6% grade, thanks to its high wear resistance, results in longer tool life as compared with conventional 10% grades.
Rods with helical coolant holes in CTS12D:
15° helix angle
30° helix angle
40° helix angle
INDUSTRIE Lyon 2017:
Join our team in Hall 5, Stand L115 from 4 to 7 April at the INDUSTRIE Lyon 2017 and discover more about our extended stock range of rods with helical coolant holes.
Contact:
CERATIZIT S.A.
101, Route de Holzem
LU-8232 Mamer
Luxembourg
T. +352 31 20 85-1
F. +352 31 19 11
For over 95 years, CERATIZIT has been a pioneer developing exceptional hard material products for cutting tools and wear protection. The privately owned company, headquartered in Mamer, Luxembourg, develops and manufactures highly specialized tungsten carbide cutting tools, inserts, rods and wear parts. The CERATIZIT group is the market leader in several wear part application areas and develops successful new types of hard metal, cermet and ceramic grades used for instance in the wood and stone working industry.