Ceramic Frame Bridge CMMs come in 3 configurations.
Press Release Summary: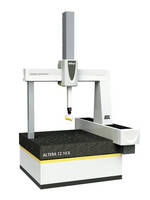 Altera Essential Series CMMs support motorized/manual probe heads, while Altera Optimum Series 5-axis CMMs feature PH20 infinite positioning touch-trigger probe head. Accepting touch-trigger/scanning probes, Altera Ultimate Series CMMs include graphic display and CAMIO software for creating inspection programs and reports in CAD format. All have ceramic structural components, maximizing accuracy and resistance to temperature shifts, and passive anti-vibration. Seven sizes are available.
---
Original Press Release:

Nikon Metrology Introduces New Altera Range of CMMS



The new ALTERA range of bridge coordinate measuring machines (CMMs) from Nikon Metrology have been developed to meet the varying needs of manufacturers, both today and in the future. Improved productivity, enhanced metrology and greater flexibility are the hallmarks of this new generation of premium quality CMMs from Nikon Metrology, notably the first from Nikon Metrology with the Nikon insignia.



10 years original accuracy guarantee



For 50 years the LK brand of CMMs from Nikon Metrology has been synonymous with high quality and enduring performance. ALTERA combines this experience with the latest technology to define a new generation of advanced CMMs which provide exceptional flexibility and enduring performance across all manufacturing environments. Ceramic, used for key structural components within the CMM metrology frame, uniquely provides three benefits vital for high speed measurement and long term accuracy; a near perfect stiffness-to-weight ratio, a greater resistance to temperature shifts and long term dimensional stability. Due to the use of ceramic in the ALTERA metrology frame, Nikon Metrology is the only manufacturer to guarantee the original accuracy specification of its CMMs for a period of 10 years.



A CMM for every task



By working closely with its large and experienced customer base, Nikon Metrology has developed the ALTERA to meet the current and future needs of customers. In response to the increasing trend of using CMMs for shop-floor metrology, ALTERA is a shop-floor ready solution with passive anti-vibration and fully enclosed covers protecting the guide ways from contamination and accidental damage. Temperature compensation, for the work piece and CMM uniquely to the probe tip, and active anti-vibration are available for consistent measurement in more harsh environments.



ALTERA CMMs are available in three probing configurations, ESSENTIAL Series, OPTIMUM Series and ULTIMATE Series Each configuration offers a different level of popular functionality to suit a broad range of metrology applications with additional options available to meet individual customer needs.



The ALTERA ESSENTIAL Series of premium quality touch trigger probe CMMs are available with a range of motorized and manual probe heads and accessories, including automatic stylus changing, and are an efficient solution for a range of general measurement and inspection applications.



The ALTERA OPTIMUM Series of 5-axis CMMs are available with the PH20 infinite positioning touch-trigger probe head and have been optimized around four key requirements for measuring complex internal geometry; productivity, probe access, accuracy and best use of the CMM volume.



Two software options are available with ALTERA, CMM-MANAGER and CAMIO. CMM-MANAGER is a highly intuitive task-oriented software package for touch-trigger probe CMMs which has been developed to make every step of programming and reporting as streamline as possible. Walk-in, measure and report, quick start dimensional checks optimize daily measurement tasks. Intelligent path planning with real time work-piece and probe simulation, plus smart probe selection with collision avoidance, simplifies the most challenging inspection job to a few mouse clicks.



Multi-sensor CMM for best-in-class combination of productivity and flexibility



The ALTERA ULTIMATE Series of advanced multi-sensor ready CMMs provide a class leading combination of productivity and flexibility. As The ALTERA ULTIMATE Series are both touch-trigger probe and scanning probe ready, users are able to take full advantage of scanning as and when the need arises. Scanning provides a more complete and detailed insight, dimensional deviation is displayed graphically and easy to understand while CMM throughput is significantly improved. For the ultimate in CMM flexibility Nikon Metrology non-contact laser scanners can be conveniently added at any time, without the need for additional wiring or controllers. Laser scanning extends the application scope of the CMM to new parts, materials and geometry with further productivity gains. 



The ALTERA ULTIMATE Series of CMMs are supplied as standard with CAMIO software. CAMIO is a comprehensive CMM software package, with advanced integrated multi-sensor capability for touch probes, scanning probes and laser scanning. Inspection programs and reports can be created for a wide range of common or specialist applications, both online or offline, using any popular CAD format. Inspection programs can be migrated from one CMM and sensor technology to another to suit the technology available or as needs change, providing a flexible solution for multiple installations or centralized programming.



ALTERA CMMs are available in seven sizes ranging from small to medium and with measuring volumes from 7.5.5 to 20.10.8. ALTERA CMMs will be available from Nikon Metrology as of June 2013.



About Nikon Metrology

Nikon Metrology offers the broadest range of metrology solutions for applications ranging from miniature electronics to the largest aircrafts. Nikon Metrology's innovative measuring and precision instruments contribute to a high performance design-through-manufacturing process that allows manufacturers to deliver premium quality products in a shorter time. Further information is available on www.nikonmetrology.com.



For further information please contact:

Renaat Van Cauter

Director Marketing Communications

Nikon Metrology NV, Geldenaaksebaan 329, B3001 Leuven, Belgium

renaat.vancauter@nikonmetrology.com

Tel +32 16 74 01 00



More from Adhesives & Sealants